SIGAW: Bringing Innovation to the Shorelines of its Neighboring Communities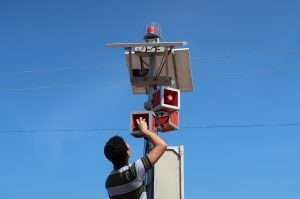 The Philippines is one of the countries prone to disasters since it is located in the area known as the "Pacific Ring of Fire" and is surrounded by large bodies of water. One of the most destructive calamities that have hit the country is the tsunami, a series of ocean waves caused by an underwater earthquake or volcanic eruption. This type of disaster can devastate the livelihood of the residents and disrupt the state of the economy.
In response to the critical environmental issue and light of the university's research thrust on Disaster Risk Reduction and Management, a circle of innovators, researchers, makers, and builders from BatStateU came together and developed the Solar-Powered Isotropic Generator of Acoustic Wave or SIGAW. The project is spearheaded by the university's Technology Business Incubator, the Center of Technopreneurship and Innovation.
SIGAW is a network of cost-efficient tsunami early warning systems which is capable of ensuring the safety of the citizens by providing early warning through a siren or an alarm and a text message. Data collected by the Philippine Institute of Volcanology and Seismology (PHIVOLCS) triggers the sensor of the SIGAW before the tsunami hits the shore, which gives enough time for the residents to prepare and proceed to a safer area.
Initially, the team handling the distribution of SIGAW across the country conducted site visits for the deployment of SIGAW units as part of disaster risk preparedness initiatives. Today, a total of 20 SIGAW units have been installed in the provinces of Batangas and Quezon.
SIGAW started its implementation in the Batangas province in 2016 with funding from the United Nations - World Food Program (UN-WFP). Through the partnership, 17 units have been installed in the different coastal areas in the municipalities of Batangas.
In November 2017, BatStateU, through the funding of DOST-CALABARZON, deployed three (3) units of Tsunami Early Warning System (TEWS) in Quezon province. 
To date, additional three (3) units are  being developed and are set to be installed before the end of 2020. The university is also engaged in the maintenance of the said units. The SIGAW is just one of the many R&D initiatives of BatStateU as it continues to swim against the currents and bring about disruptive innovation to its neighboring communities.