On November 24, 2022, Fuji Haya Electric Corporation sealed a scholarship partnership with Batangas State University, The National Engineering University (BatStateU-The NEU).
Headed by BatStateU-The NEU President, Dr. Tirso A. Ronquillo, together with the Managing Director of Fuji-Haya Electric Corporation, Mr. Yu Hi Kian, the partnership focuses on giving scholarships to deserving students of the University.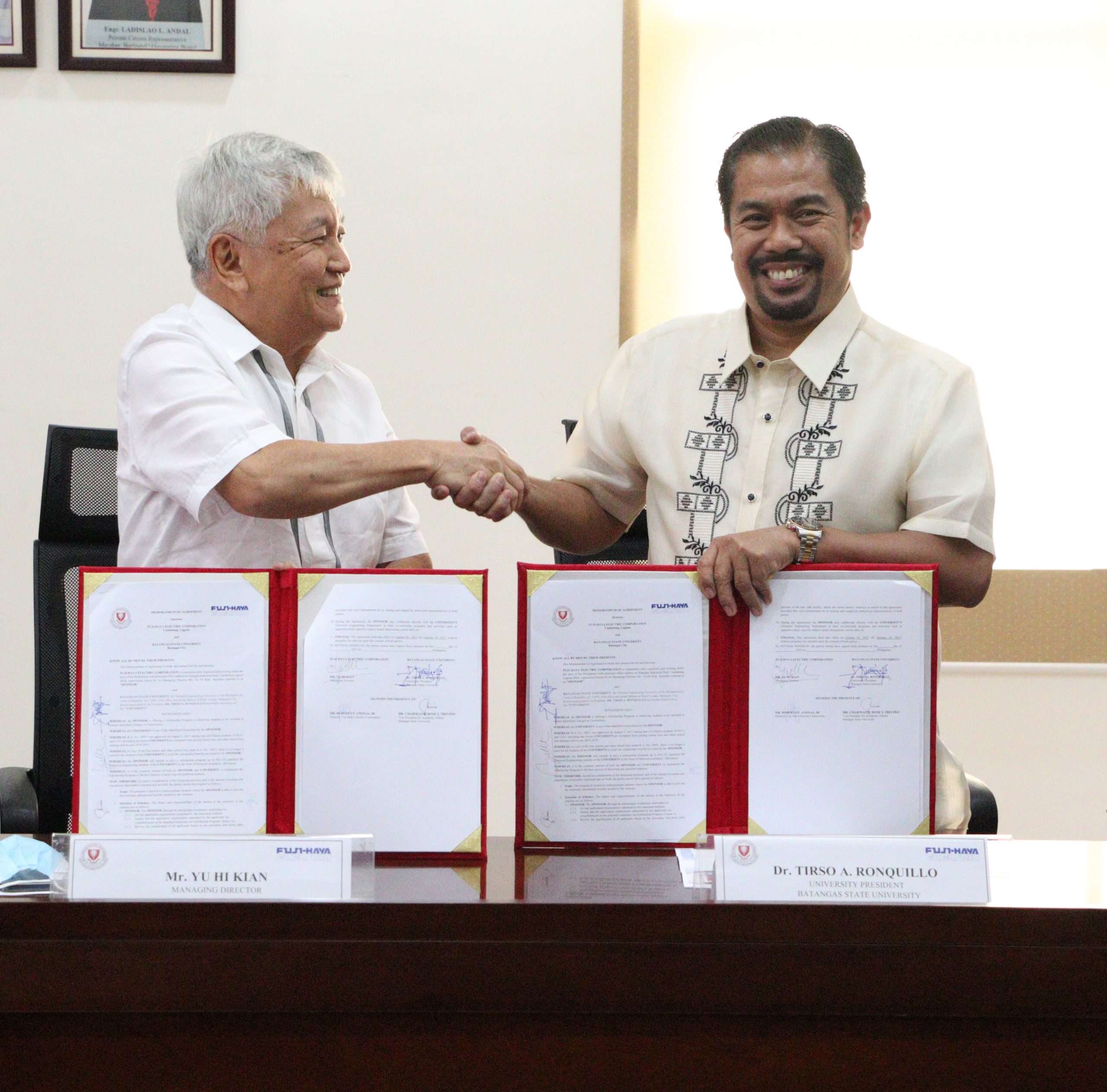 In his welcome remarks, Dr. Ronquillo praised the officials of Fuji-Haya Electric Corporation for the initiative of giving assistance to the students of his beloved university. "The scholarship that you will provide is a great help to our students not just in terms of financial assistance but an inspiration and motivation to learn more, knowing that there is an institution who is willing to support their educational needs", Dr. Ronquillo added. He also thanked Fuji-Haya Electric Corporation in accommodating the students of BatStateU in terms of immersion, training, seminars, and internship and encouraged both parties to explore more aspects of collaborations such as cooperative learning opportunities which will mutually benefit the two institutions.
Extremely delighted in the said partnership, Mr. Yu Hi Kian further expressed his gratitude to BatStateU-The NEU for making the collaboration possible. He said that the bind will pave way for more possible opportunities to be opened to BatStateU students. He was amazed about the programs offered by the University which he believes promotes dynamism, innovation, and technological development in our country.
BatStateU Vice President for Academic Affairs, Dr. Charmaine Rose I. Triviño also extended her appreciation to Fuji Haya Electric Corporation and conveyed that this will be the start of fulfilling the students' dream to have a worthwhile educational experience without any cost. She also mentioned that Batangas State University is looking forward to having more academic collaboration with the company.
Also present in the momentous event are BatStateU officials including Atty. Noel Alberto S. Omandap – Vice President for Development and External Affairs, Prof. Paulina M. Macatangay – Vice Chancellor for Academic Affairs of Alangilan Campus, and Dr. Reynato A. Gamboa – Dean of College of Engineering, Dr. Teodorica G. Ani – Director of External Affairs Office and Dr. Jennifer G. Manalo – Assistant Director of Scholarship of Batangas State University. The MOU Signing Ceremony was also graced by the delegates from Fuji-Haya Electric Corporation namely Mr. Roberto F. Anonas Jr. – Director and General Manager, Ms. Vilma A. Llorin – Senior Manager, and Ms. Grace Panalangin – Head Safety Officer.