In this microcredential course, learners will acquire competencies related to essential data concepts and how to effectively manage them using Microsoft Azure's data services. This will cover relational and non-relational data, big data, and analytics, providing a robust understanding of Azure's cloud data services. The microcredential course guides learners through relational data fundamentals, non-relational data using Azure storage, Azure Cosmos DB, large-scale data warehousing, and real-time analytics. Whether learners are refreshing their knowledge or new to the field, this microcredential course offers a solid foundation in Microsoft Azure's data services.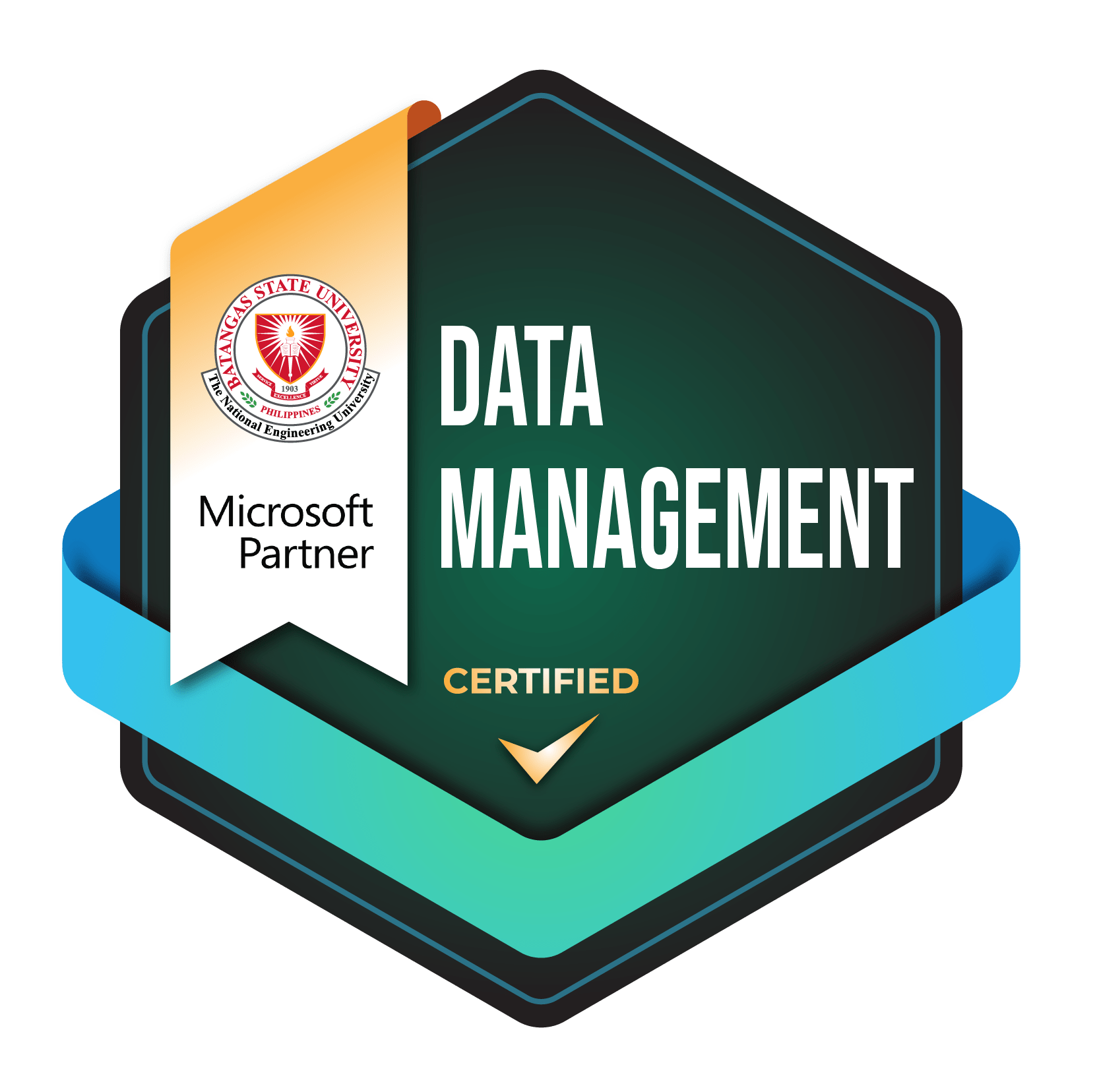 Course Outline
Module 1: Cloud Concepts
Module 2: Azure Architecture and Services
Module 3: Azure Management and Governance
Module 4: Data Concepts
Module 5: Relational Data
Module 6: Non-relational Data
Module 7: Data Analytics in Azure
Required Resources
Laptop, Intel Core i5 or higher, 16GB RAM, 1TB Storage, Graphics Card (Hardware); Microsoft Azure (Software); Adequate Internet Connection (Network)
Assessment
In this Data Management course, there will be
One (1) diagnostic assessment, conducted synchronously and based on knowledge, allows learners to choose between remote or on-site participation.

Two (2) formative assessments, one focusing on knowledge and the other on performance. Both are available asynchronously, allowing learners to complete them at their own pace, with the option for remote or on-site participation.

A knowledge-based style summative assessment is conducted synchronously, allowing learners to participate remotely or on-site.
Credit and Recognition
Upon completing the Data Management course, learners will receive a Certificate of Completion and a badge. These serve both as a recognition of acquired data science expertise and a foundational step toward more advanced studies in said field.
This course is facilitated by a Microsoft Certified Professional, someone who has completed professional training for Microsoft products through a certification program provided by Microsoft. To ensure the quality of this microcredential, continuous feedback loops with students, instructors, and industry practitioners are maintained to improve content, delivery, and assessment methods continuously.
Learning Pathways
The learner is eligible to take the Microsoft Certified: Azure Fundamentals and Azure Data Fundamentals.
Specifically: Data Management is the foundational course for your journey in the world of data. Upon successful completion, you'll have the choice to specialize further in:

Data Analytics: If you're keen on extracting insights from data.

Data Engineering: If you're interested in designing robust data infrastructure.

Machine Learning: If you're interested in building intelligent systems.