The "Cybersecurity: Cyber Threat Management" micro-credential course covers essential cybersecurity concepts, including ethics, governance, network security testing, and endpoint vulnerability assessment. Emphasizing threat intelligence and risk management, this course equips learners competencies for effective incident response. This micro-credential course's primary objective is to prepare learners to actively participate in threat management and incident response activities, enabling them to contribute significantly as a valuable member of a cybersecurity operations team.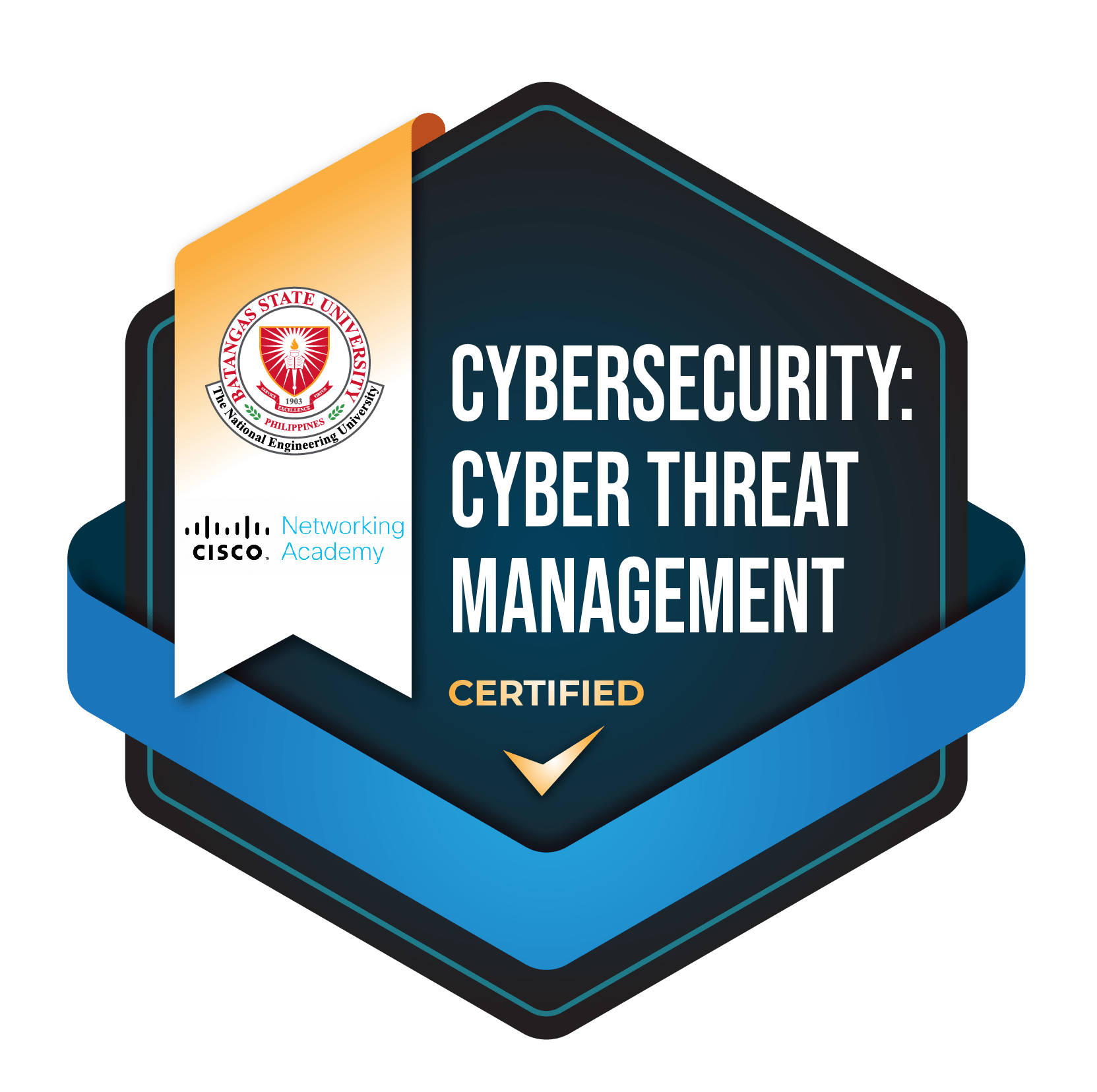 Course Outline
Module 1: Governance and Compliance
Module 2: Security Assessments
Module 3: Threat Intelligence
Module 4: Endpoint Vulnerability Assessment
Module 5: Risk Management and Security Controls
Module 6: Digital Forensics and Incident Analysis and Response
Required Resources
Computer, 2GB RAM or higher, 8GB free disk space (Hardware); Oracle VirtualBox, Virtual Machine Image File (Software); High-speed Internet Connection (Network)
Pre-Requisites
PC and internet navigation skills, basic Windows and Linux system concepts, and a basic understanding of computer network protocols, services, processes, and configurations; completed course Cybersecurity: Network Defense
Assessment
In this Cybersecurity: Cyber Threat Management course, there will be
One (1) diagnostic assessment will be conducted asynchronously and knowledge-based, allowing learners to proceed at their own pace. It offers the flexibility for remote or on-site participation.

Two (2) formative assessments, one concentrating on knowledge and the other on performance-based skills measurement. Both formative assessments are to be conducted synchronously, allowing learners to participate remotely or on-site.

A performance-based summative assessment conducted synchronously, offering learners the option of remote or on-site participation.

Credit and Recognition
The certification is globally recognized wherever Cisco and Cisco NetAcad are acknowledged.
This course is delivered in partnership with CISCO, a leading global technology company, through its CISCO Networking Academy Program. To ensure the quality of this micro-credential, continuous feedback loops with students, instructors, and industry practitioners are maintained to improve content, delivery, and assessment methods continuously.
Learning Pathways
Cybersecurity: Cyber Threat Management
Cybersecurity: Network Defense is a prerequisite for Cybersecurity: Cyber Threat Management. Upon completing this course, you will have completed the Junior Cybersecurity Analyst Pathway, equipping you with the skills and knowledge needed for a career in cybersecurity.