A team of BS Electronics Engineering students from Batangas State University, The National Engineering University victoriously emerged as "CHAMPION University Category" in the recently concluded Engineering Innovation Challenge (EIC) 2022 in Singapore.  It was organized by the Institution of Engineers, Singapore (IES) and Science Centre Singapore with the support of the Ministry of Education. The competition commenced in September 2022 and was concluded with a demo and awards presentation during the celebration of Singapore's National Engineering Day (NED) on November 19. With creativity and innovation, the team topped other finalists from different countries including students from the National University of Singapore and Nanyang Technological University who came second and third respectively.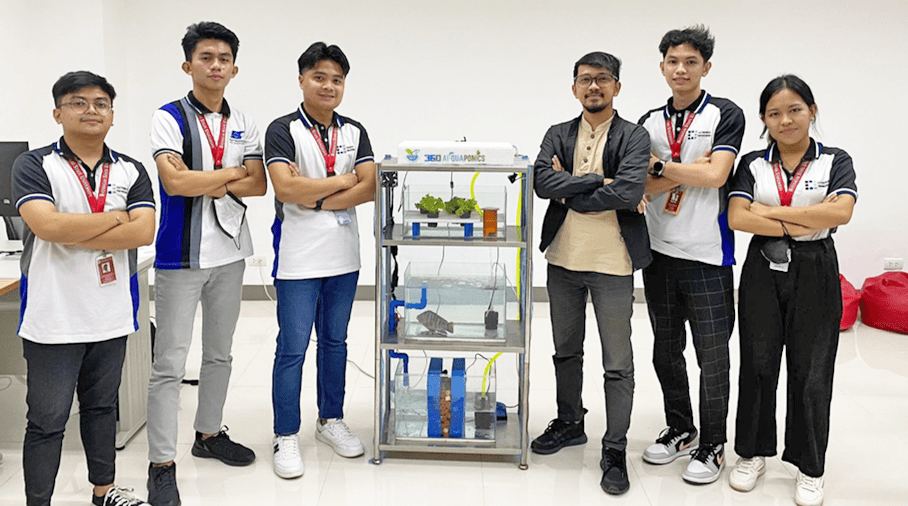 Ai-quaponics-360, Champion, Engineering Innovation Challenge 2022 – University Category
Their innovative models were evaluated based on the final product, creativity, design and methodology, originality of the research problem and teamwork. The BatStateU four (4) engineering teams composed of five (5) engineering students and a faculty mentor that made it to the finals of the EIC 2022 under University Category. The team who worked tenaciously on the innovation project, AI-quaponics-360 included Marc James M. Beltran, John Vincent D. Biscocho, Lawrence M. De Castro, Maria Nelly S. Magboo, and Jerico D. Matibag. They used the Internet of Things and Artificial Intelligence (AI) to to create an intelligent small-scale aquaponics system, for the monitoring and control of aquaponics parameters, as well as its botanical and zoological components, innovatively designed for food sustainability and security through home urban farming. Dr. Alvin S. Alon, Head of the Digital Transformation Center, BatStateU mentored the team and resolutely guided them all throughout the competition.
The "Merit Awards" in the same category were received by the two other teams from BatStateU with their entries: Intelligence Road Quality Monitoring System with Vibration-Sensing Device and Machine Vision Camera dubbed as AI-Rover by John Lloyd A. Austria, Alyssa Mharbie T. Aleta, Nicole L. Librea, James D. Mondelo, and John Carlo L. Padua, mentored by Dr. Anton Louise P. De Ocampo; and the AI 3D SET GO, an AI-Optimized 3D-Printed Adsorbents Decorated with Waste PET Plastic-Derived Metal-Organic Frameworks for Effective and Sustainable Wastewater Remediation by Lawrence V. Portillo, Alvin D. Javier, Andrea A. Rubia, and Abigayle Vince G. Cruz, coached by Dr. Reymark D. Maalihan.
Team EUGTO, which seeks to establish Urban Building Placements and Generating Environmental Impacts Through Artificial Intelligence with student members: Rosselle June M. Asi, Eloiza Jean D. Atienza, Clarisse F. Fajarito, Christine Marie V. Oca, and Abegail B. Pangilinan under the BS Electronics Engineering. They were mentored by Dr. Anton Louise P. De Ocampo, Faculty of Electronics Engineering Department and Head of Electronic Systems Research Center.
The BatStateU finalists were supported by the research centers under the Science, Technology, Engineering and Environment Research (STEER) Hub such as the Digital Transformation Center (DTC), Electronic Systems Research Center (ESRC),  Material Testing and Calibration Center (MTCC) and the Center for Innovations in Engineering Education (CIEE).
Beyond the monetary reward of SGD 8,000.00 for the Champion Team, additional gains were the reward of gaining maturity, building self-confidence, having a greater appreciation of teamwork and professionalism, and an opportunity to develop their potential in providing an innovative solution for a more sustainable future, the inspiration it provides among young Filipino engineers and students even.
Truly, Batangas State University, the National Engineering University continuously manifests excellence, creativity and commitment to staying true to its mandates to  achieve relevance and create transformative impact through innovations towards a sustainable future.