The Batangas State University (BatStateU), through the Verde Island Passage Center for Oceanographic Research and Aquatic Life Sciences (VIP CORALS), and in partnership with the Philippine Phycological Society, Inc. (PPSI) will be co-hosting the 9th National Symposium and Scientific Meeting of the PPSI on Nov. 12-13 to which they will pay homage to the 90th birthday of national scientist Dr. Gavino Trono Jr., a Filipino biologist dubbed as the "Father of Kappaphycus farming".
Dr. Trono was conferred the rank of National Scientist of the Philippines for contributions to the study of tropical marine phycology, focusing on seaweed biodiversity. He is currently a professor emeritus at The Marine Science Institute of the University of the Philippines Diliman (UP MSI), where he works on the bio-ecology and cultivation of the brown seaweeds Sargassum spp. and refining his recently developed culture technology for the red seaweed Halymenia durvillei.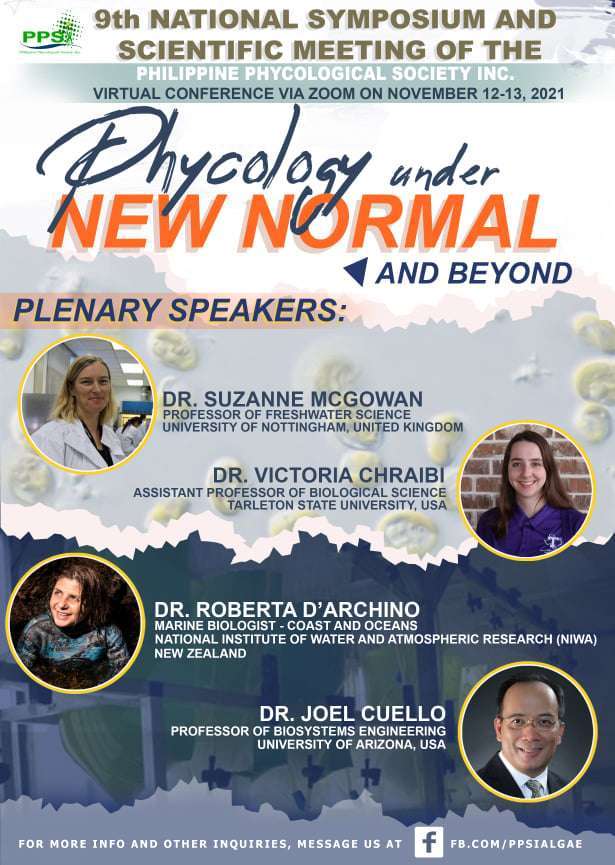 The symposium carries the theme "Phycology Under New Normal and Beyond" which headlines four (4) international scientists as plenary speakers: Dr. Victoria Chraibi, Assistant Professor of Biological Science, Tarleton State University, USA; Dr. Roberta D'Archino, Marine Biologist – Coast and Oceans, National Institute of Water and Atmospheric Research (NIWA); Dr. Suzanne McGowan, Professor of Freshwater Science, Netherlands Institute of Ecology; and Dr. Joel Cuello, Professor of Biosystems Engineering, University of Arizona, USA.
According to PPSI President Dr. Wilberto D. Monotilla, this year's scientific program also features oral and poster sessions from professionals and students presenting a broad range of research findings related to phycology.
"The symposium will provide the ideal forum to stimulate ideas and establish collaborations as well as encourage and initiate discussions. As we journey towards our third decade in providing professional and scientific education, we aim to create a new engaging online experience with aspiring professionals by providing innovative insights and invaluable guidance and assistance from experts in the field of Phycology," Dr. Monotilla added.
Established in 2007, PPSI is steadfast to its mission of promoting the science of phycology (study of algae) in the Philippines, being the country's primary and foremost phycological society in education, research, and industry, and serving as repository of information on the phycological culture and resources in the country.
This will be the first time that the symposium will be held virtually. PPSI conducts its symposium biennially with partner organizations and universities in some localities which include UP MSI (2007 and 2011), UP Los Baños (2009), Southeast Asian Fisheries Development Center (SEAFDEC) (2013), Mariano Marcos State University (2015), Mindanao State University (2017), and De La Salle University (2019), and Batangas State University (2021), thus serving its constituents from different regions of the country.
For more details about the virtual symposium, you may visit the official event website at https://batstate-u.edu.ph/ppsi2021 and Facebook page at https://www.facebook.com/ppsialgae.
Batangas State University is a Level IV state university in the CALABARZON region, and the only SUC in the country accredited by the US Accreditation Board for Engineering and Technology (ABET) for its Engineering and Information Technology programs. It is rated 3 stars in the Quacquarelli Symonds (QS) list of top universities and has the highest number of ASEAN Engineers faculty among Philippine higher education institutions.
CONTACT:
VIP CORALS
Batangas State University