BATANGAS CITY. The Batangas State University Knowledge, Innovation and Science Technology (KIST) Park welcomes Pythos Technology Philippines, Inc. (Pythos) as its first enterprise locator, February 15.
The Ambassador of India to the Philippines, His Excellency Shambhu S. Kumaran, witnessed the ribbon cutting ceremonies, together with Philippine Economic Zone Authority (PEZA) Director General Charito B. Plaza and BatStateU President Dr. Tirso A. Ronquillo. Potential locators from India and the Philippines also graced the occasion.
Pythos is a pioneer in electronics hardware design, software design and development, and applications firmware development in the country. The company brings in their wide experience in research, design and development to the KIST Park. Prior to the move in, Pythos has already been working with BatStateU for a simulation project that could curb the spread of COVID-19.
In the event, the Pythos development team presented two of their cutting edge technologies, Airlock 389 and PyTrace. Airlock 389 is a patented graphene-based technology for air purification integrated in the AV 100 anti-viral face shields. It offers the high-level protection against airborne pathogens, while providing comfort, visibility, and breathability even with prolonged use.
On the other hand, PyTrace is a whole ecosystem of detection, mitigation, and contact tracing. It is anchored on the idea that in order to curtail the spread of the contagion, there is a need to prevent the importation of the infection into bubbles, i.e., clusters of people who are infection-free. If that escaped the surveillance, there is a need to detect the infection early and implement rigorous countermeasures to mitigate and halt its spread within an organization.
Both technologies have been developed in collaboration with engineers and researchers of Batangas State University.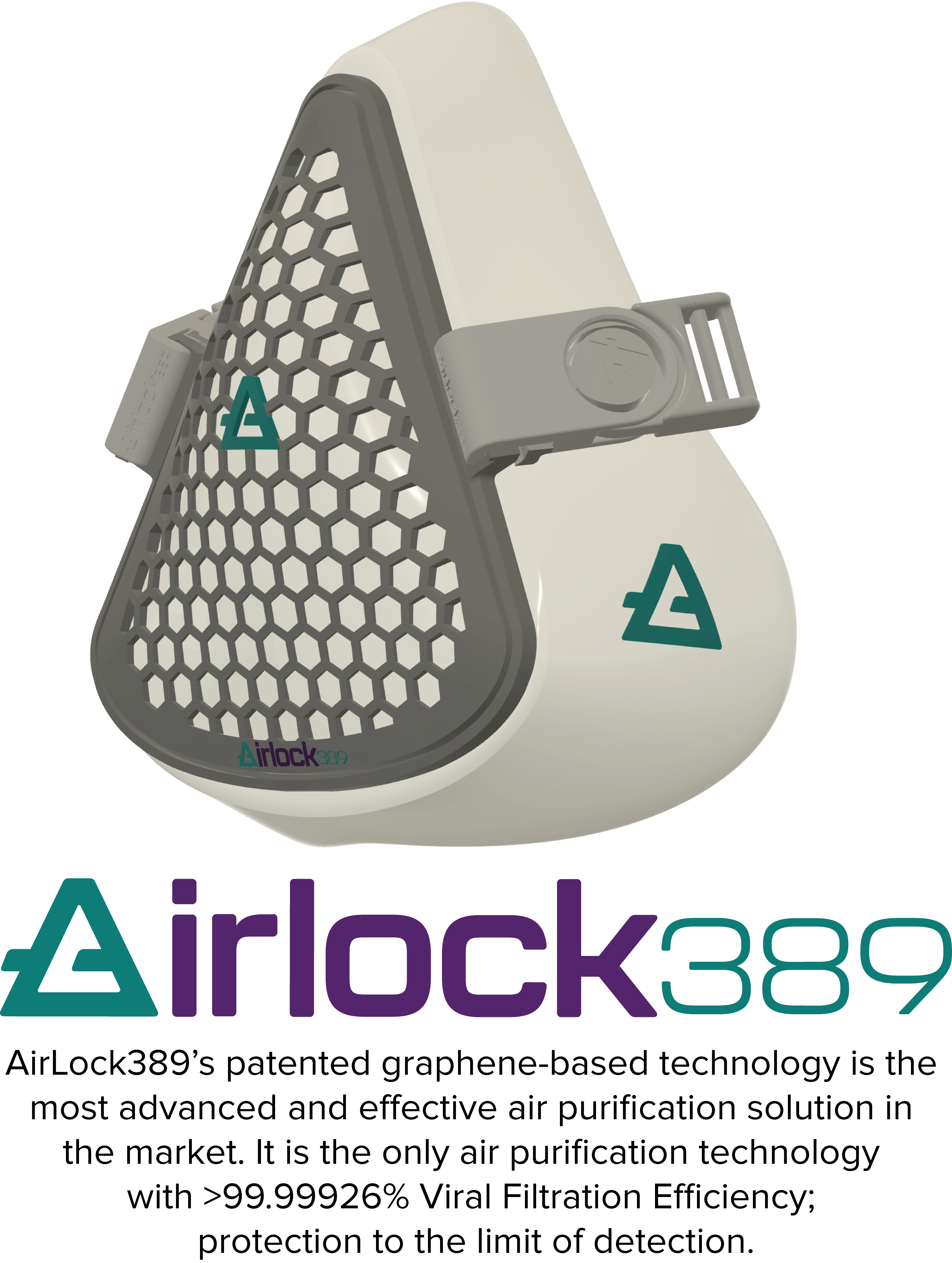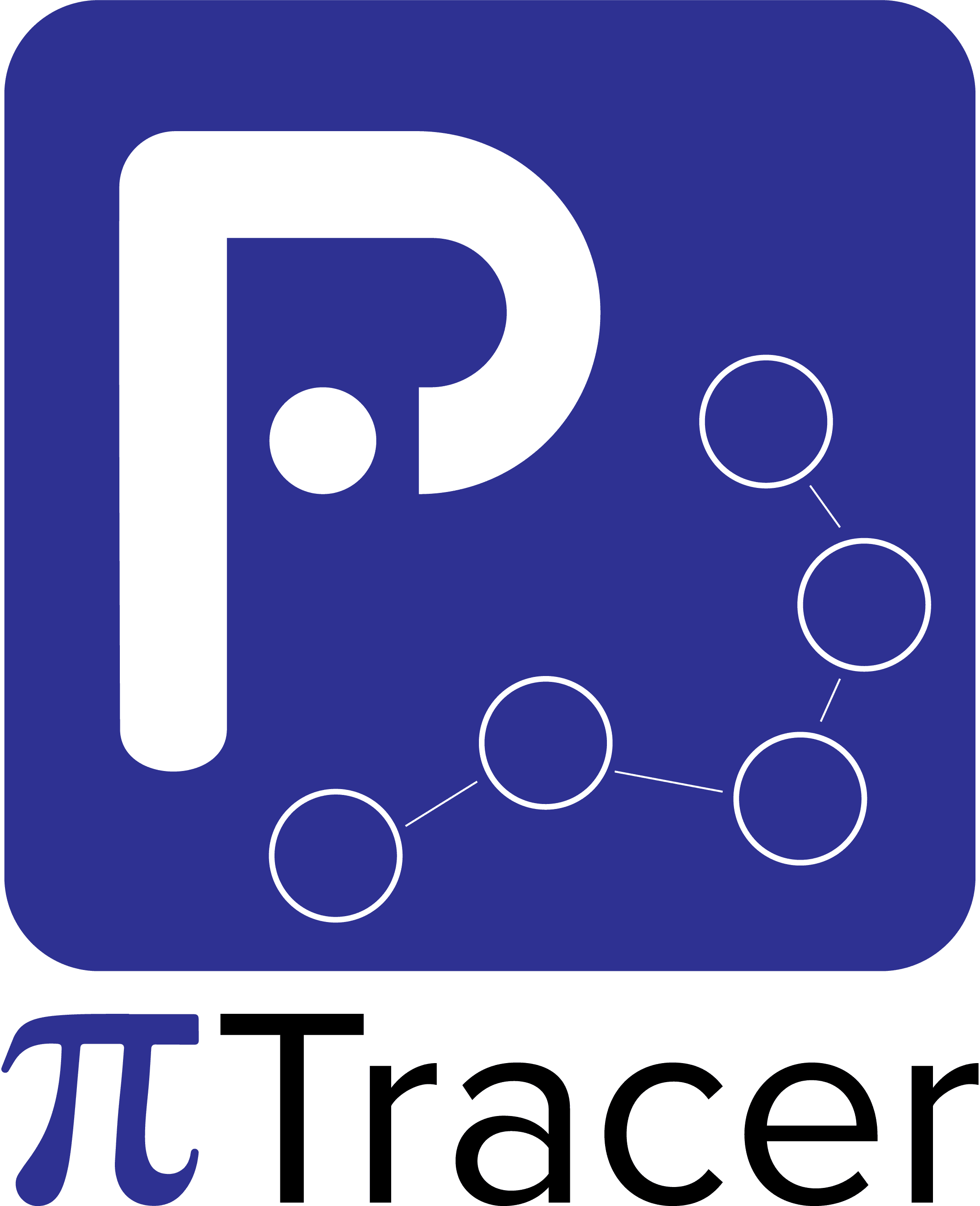 Airlock 389 and PyTrace are two cutting edge technologies developed by Pythos in collaboration with BatStateU engineers to curb the spread of COVID-19.
In an interview, Pythos Chairman/CEO Engr. Ernest "Ernie" Nierras said that it was important for them to commit as the BatStateU KIST Park's first locator. "We want Pythos to set an example for all semi-conductor companies, even start-ups, in the Philippines. Right now, it [KIST] is structured in such a way that it encourages companies to come in, innovate, create technology, and share technology," Engr. Nierras said.
The university's Science, Technology, Engineering, and Environment Research (STEER) Hub serves as the BatStateU KIST Park's space for Pythos and other enterprises. It is a support facility for locators, as it hosts research and development centers. These include the Manufacturing Research Center: LIKHA FabLab, Center for Technopreneurship and Innovation (CTI), Electronics Systems Research Center, GIS Applications Development Center, Digital Transformation Center, Innovation and Technology Support Office, and Material Testing and Calibration Center.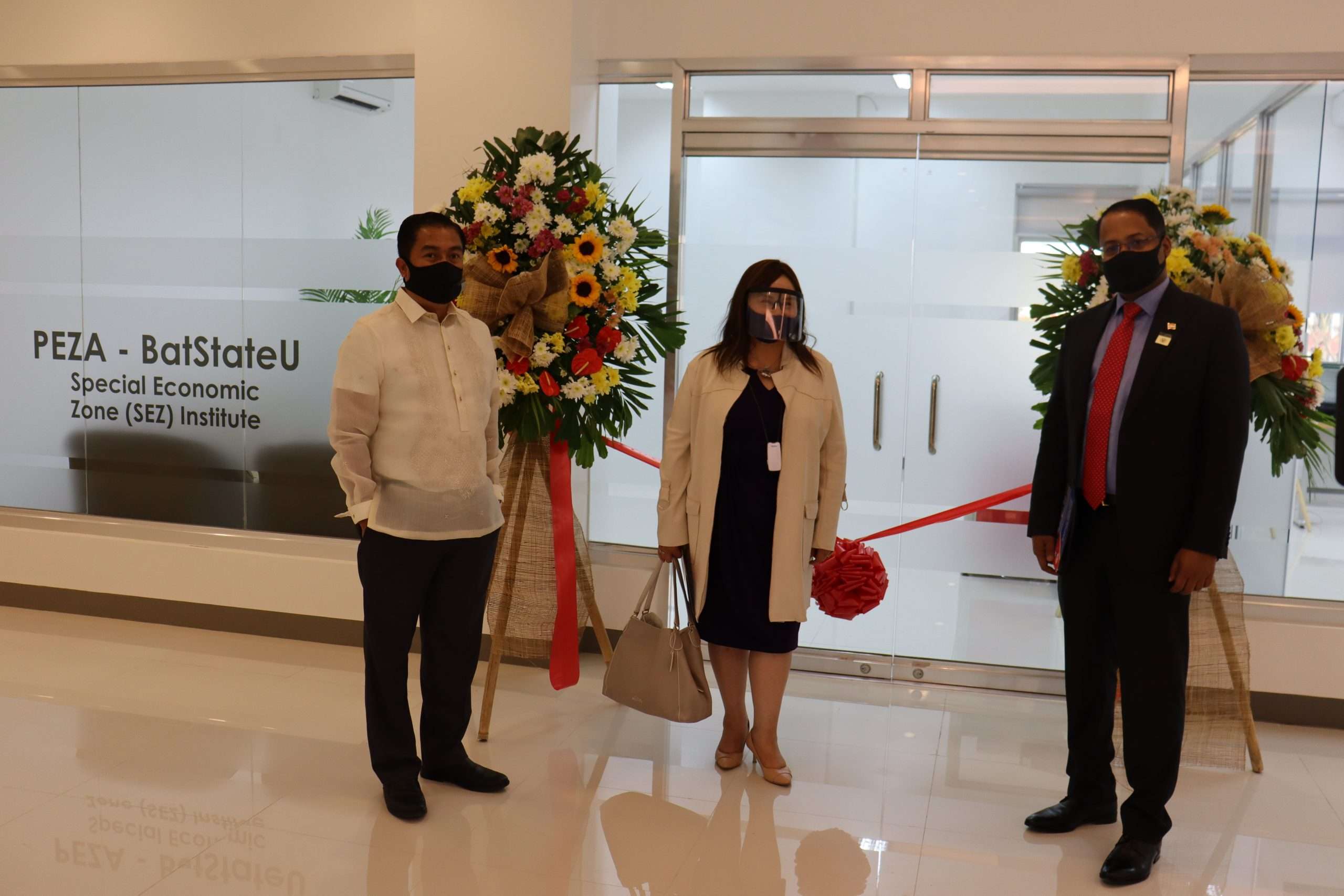 BatStateU President Dr. Tirso A. Ronquillo, PEZA Director General Charito B. Plaza, and HE Shambhu S. Kumaran of the Embassy of India to the Philippines lead the ribbon cutting ceremonies for the PEZA-BatStateU Special Economic Zone (SEZ) Institute.
In the same event, the PEZA-BatStateU Special Economic Zone (SEZ) Institute was launched. As a SEZ Institute, the university serves as a program-delivering partner of PEZA in producing multi-skilled and world class human capital. It functions as a training hub that institutionalizes collaboration among the academe, industry, and government agencies in establishing locally-positioned investment promotion strategies for Batangas and the CALABARZON region. This newest SEZ Institute is also located at the BatStateU STEER Hub.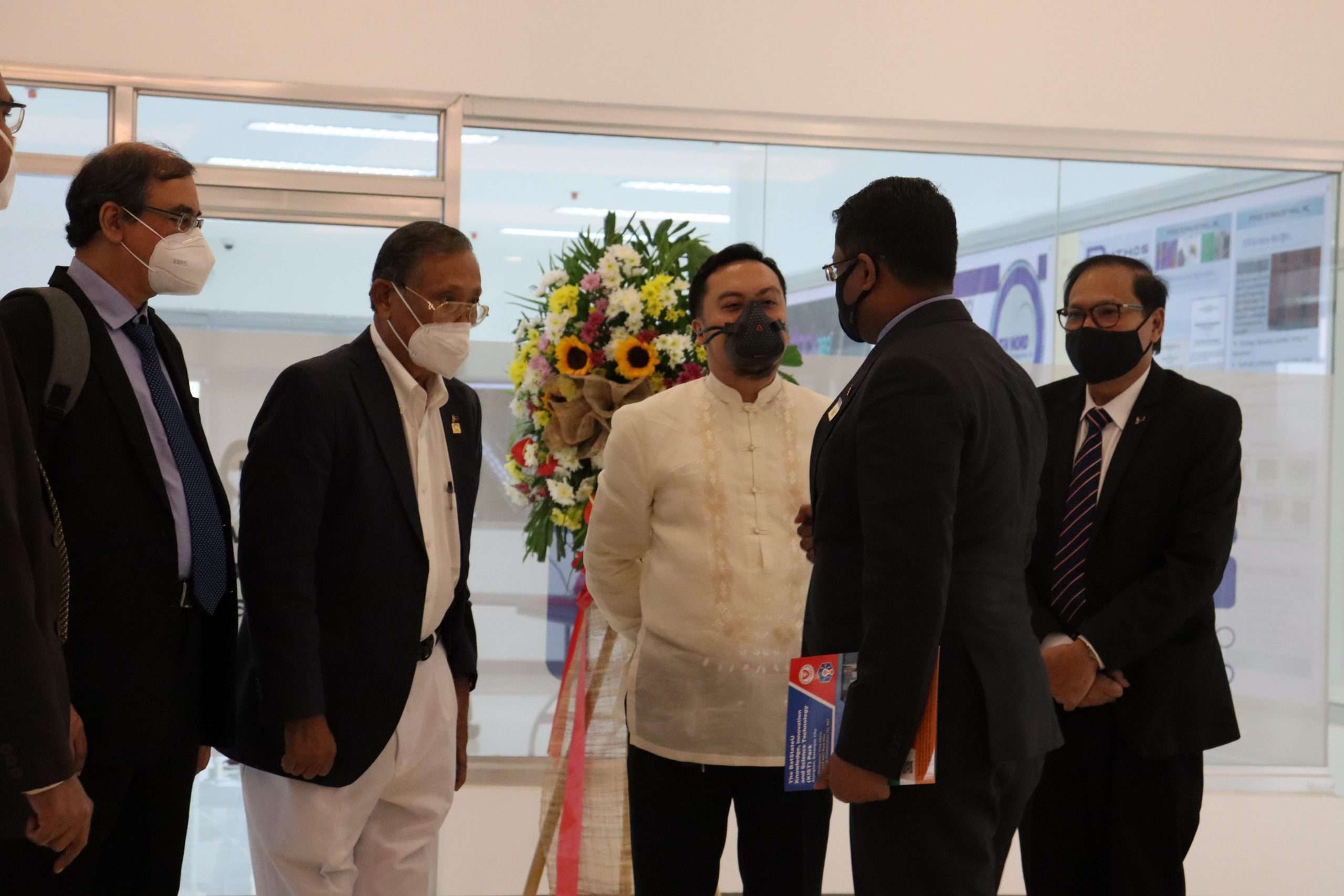 Aumra Group International CEO Mr. Arvind Kumar TJ, Farmers Bazaar Fintech Philippines Chairman Mr. Crisanto "Billy" Gualberto, BatStateU VP for Research, Development and Extension Engr. Albertson Amante, HE Shambhu S. Kumaran of the Embassy of India to the Philippines, and PCCI-Batangas Chair Mr. Faustino Caedo (L-R) discuss the details of the partnership with BatStateU KIST Park and the Embassy of India.
It can be remembered that President Rodrigo Duterte signed Proclamation No. 947 on May 22, 2020, making the BatStateU KIST Park the first university-based Special Economic Zone (IT Park) in the country. Now open for business, the BatStateU KIST Park spearheads a long-term vision for state universities and colleges in the Philippines to expand their programs for industry, academe, market synergy, technopreneurship, innovation-based business incubation & acceleration, and knowledge co-creation in science and technology.
Batangas State University is a Level IV state university in the CALABARZON region, and the only SUC in the country accredited by the US Accrediting Board for Engineering and Technology (ABET) for its Engineering and Information Technology programs. It is rated 3 stars in the Quacquarelli Symonds (QS) list of top universities.