On February 11, Batangas State University Integrated School (BatStateU-IS) made a triumphant splash at the 12th FIRST LEGO League (FLL) competition held at SM North Edsa, 4F Cyberzone, Quezon City. With two powerhouse teams, BatStateU-IS students swept the competition with flying colors. Out of 24 participating schools around the country, Team CEALAW emerged as the Overall National Champion. Aimed to be a visionary solution to energy needs in off-grid coastal communities, this Project CEALAW is a 3D-printed lamp powered by an electrolytic cell that utilizes carbon dioxide, coconut water, and seawater. Project CEALAW sets a new standard for innovative inventions elevating discarded resources, adapting to change, and bringing closer to a world powered by affordable and clean energy.
The First Lego League (FLL) is an international competition that encourages students to learn valuable skills, such as teamwork, critical thinking, and coding and design, through hands-on, interactive science, technology, engineering, and mathematics (STEM) activities. Participants are tasked with designing and building a Lego-based solution to a real-world problem, as well as presenting their ideas and innovations to a panel of judges.
Set to represent the Philippines at the FLL World Championship in Houston, Texas, USA from April 16-23, 2023, Team CEALAW is composed of the following students:
TEAM CEALAW:
Robo Mission Participants:
1. Joseph Bernard A. Maala
2. Diandre Daivik I. Hernandez
3. Ashley Beth C. Brucal
4. Rhyle Shannon C. Aguda
5. Raab Bishop A. Endaya
6. Sicilia Armyn A. Cruzat
Research Innovation Project Participants
1. Carmelo Emanuel O. Echanez
2. Sam Efrain A. Cananua
3. Royce Allyson C. Gutierrez
4. Apoll Marc Venedict A. Hernandez
Coaches:
1. Eugene E. Mendoza
2. Jed C. Tolentino
Notwithstanding, another team from BatStateU-IS bagged multiple awards, including 4th Place in the FLL Challenge, Best Innovation Project, and Core Values Finalist with their PROJECT PIECAChU: Potassium-Induced Emergency Cell As Charging Unit. A solution that not only powers rural communities but also aligns with the United Nations' Sustainable Development Goals – The Saba Banana Waste Peel Battery. This innovative battery is crafted from a blend of organic materials, including discarded banana peels and recycled scraps, to provide a cost-effective alternative to traditional energy sources. The Saba Banana Waste Peel Battery through Project PIECAChU is a worthy example of how innovative solutions drive progress toward a more sustainable future.
TEAM PIECAChU:
Robo Mission Participants:
1. Ma. Hannah Sofia G. Gomez
2. Light Gabriel M. Bandayrel
3. Peterson D. Ronquillo
4. Maria Ahlyza Andrea M. Mercado
5. Rowlen Mathew A. Guia
6. Allen Henrik M. Montoya
Research Innovation Project
1. Darygnne Jaymeeh G. De Silva
2. Stephanie B. Alba
3. Ezira Lojelle C. Baculo
4. Reinald Arne I. Bool
Coaches:
1. Jenny P. Macalalad
2. Jomari B. Montalbo
BatStateU University President, Dr. Tirso A. Ronquillo personally graced the competition and lauded the BatStateU-IS participants for these remarkable achievements. "I am so proud of these "Batang-IS Challengers". This competition is beyond sharpening competence in robotics, as well, this is developing critical thinking skills, creativity, teamwork and discipline " Dr. Ronquillo said.
"Achieving victory in this highly competitive tournament demands a rare blend of ingenuity, technical mastery, and articulate expression. It also requires a complete comprehension of the competition's objectives and a robust commitment to working as a team. The students and mentors have demonstrated not only these qualities but have exceeded expectations, elevating their performance to a level deserving of recognition," Mr. Luis Philip M. Oropesa, Head Teacher III of BatStateU-IS also expressed.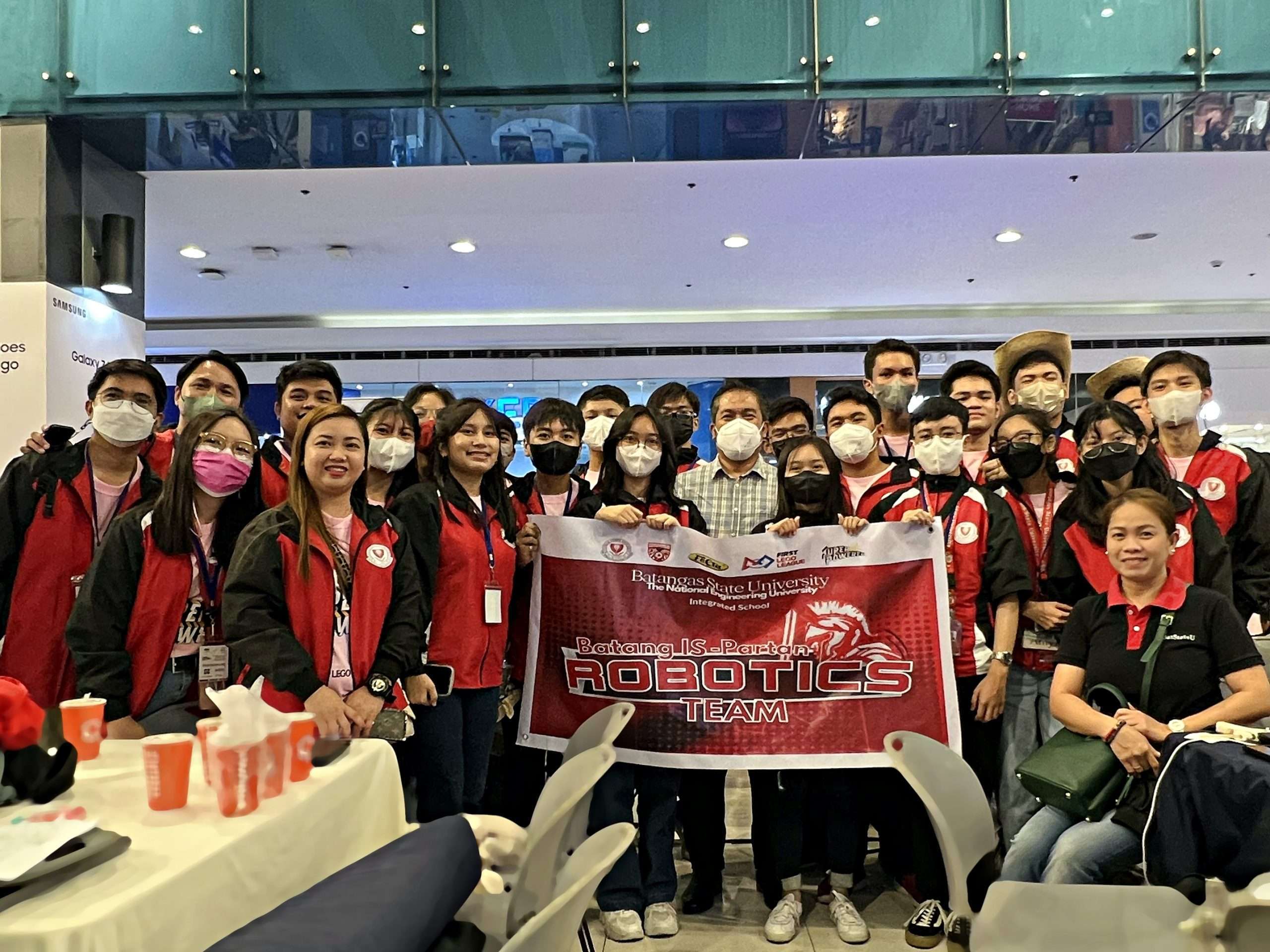 These victories, without a doubt, are a testament to the remarkable talent and dedication of these BatStateU-IS students, as well as the guidance and encouragement of their coaches. Their impressive performance demonstrates their commitment to fostering creativity, innovation, and critical thinking skills in their students. With this strong foundation and sustained support, these BatStateU's young innovators will be able to reach new heights and leave a lasting legacy.