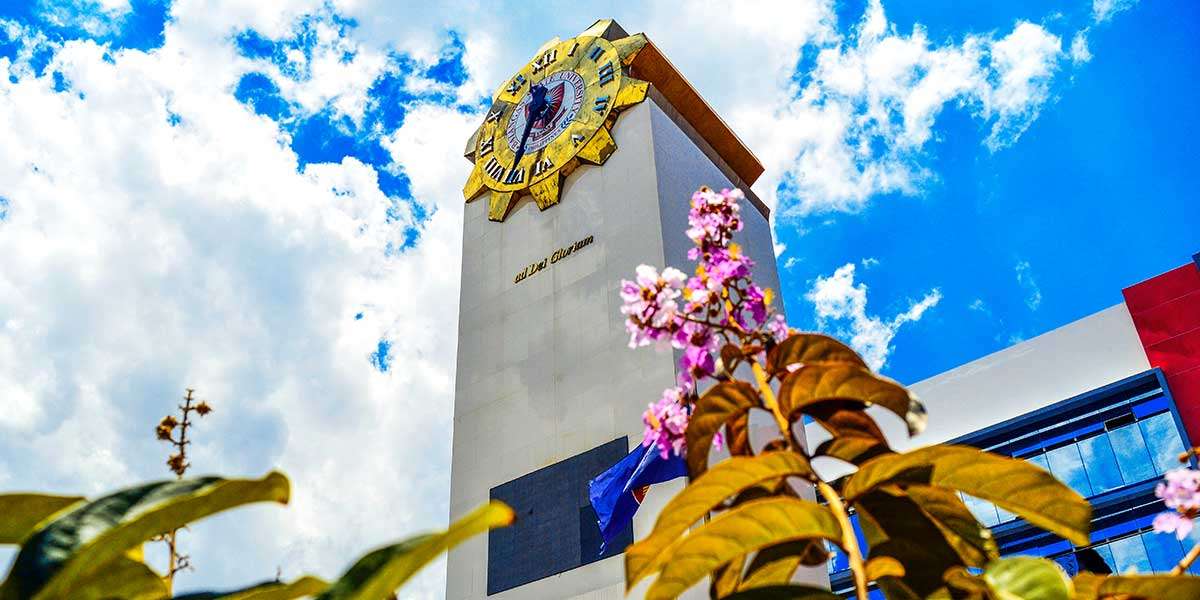 Batangas State University (BatStateU) is the Philippines' National Engineering University (The NEU) by virtue of Republic Act No. 11694 enacted on April 11, 2022. Established in 1903, this Level IV state university is strategically located at the second largest economic region in the Philippines – CALABARZON, specifically in the Province of Batangas, which puts it at a prime position not only as a premier provider of higher and advanced learning, but also as a viable economic development zone. As the National Engineering University committed to develop leaders in the global knowledge economy, part of our purposeful mandate, BatStateU continuously provides world-class academic training to young Filipinos in all specialized areas, focusing on strengthening engineering programs through the development and offering of industry-driven and emerging engineering programs. BatStateU also aims to lead in the generation of productive knowledge, innovation and technology to develop relevant and technical higher order skills needed. It serves as a public service university by providing various forms of community, public and volunteer service, as well as scholarly and technical assistance to the government, private sector, and civil society while maintaining its standards of excellence. With its pioneering and distinctive status as The National Engineering University in the country, BatStateU will advance the directions for engineering education in the Philippines by further strengthening and expanding its current 46 engineering degree programs both in graduate and undergraduate levels. Moreover, it aims to intensify efforts on producing corps of advanced trained engineers and other professionals who can create leading-edge solutions to the country's challenges in energy, infrastructure, environment, information and communications, construction, manufacturing, transportation, and other domains of everyday life. Furthermore, BatStateU leads in creating an environment that engenders the Filipino engineering experts and professionals of tomorrow while enabling the Philippines to swiftly take its place as a global knowledge center and developed economy.
Regarded as the country's largest engineering university in terms of enrollment and program offerings, BatStateU provides quality education to students from 17 regions across the country. In addition, BatStateU is also the first and thus far the only state university in the Philippines with engineering, IT, and computer science programs accredited by the Accreditation Board for Engineering and Technology (ABET) – Engineering Accreditation Commission and Computing Accreditation Commission. With 15 development centers, it is recognized by the Regional Development Council of Region IV-A as the Regional Center for Technology Business Incubation and Development, and as the Regional Center for Science, Technology, Engineering, and Environment Research.
The university's Electronics Engineering program is designated by CHED as a National Center of Excellence, and its Electrical Engineering, Mechanical Engineering, Development Communication, and Teacher Education programs are National Centers of Development. It has also maintained high academic standards in architecture, industrial technology, computing sciences, business, agriculture, allied health, and the social sciences. It received ISO 9001:2015 certification from TÜV Rheinland Philippines, Inc., and is host to the first China-Philippines Silk Road Institute in the country.
This institution's commitment to excellence garners recognition not only within its national borders but also resonates prominently on the global stage. Recent achievements highlight its global impact, notably ranking as the 90th most innovative university in the prestigious 2023 World University Rankings for Innovation (WURI). Additionally, BatStateU has achieved a significant position among the top universities, securing a ranking of 601st-800th out of 1,591 institutions from 112 countries/regions in the 2023 THE Impact Rankings.
With over 61,000 students facilitated by 2,600 faculty and staff across 11 campuses in Academic Year 2022-2023, Batangas State University remains steadfast in its adherence to international standards. It was given a three-star rating by Quacquarelli Symonds Stars University rating, and is part of the Top Universities list. Through Proclamation No. 947, President Rodrigo Roa Duterte designated the BatStateU Knowledge, Innovation, and Science Technology or KIST Park as a Special Economic Zone. It is the first KIST Park registered by the Philippine Economic Zone Authority or PEZA.
BatStateU is also dedicated to fostering a more sustainable world by integrating sustainable practices into its academic and research endeavors, using renewable energy sources, reducing waste and water pollution, and actively involving students in sustainability initiatives. In fact, among the 1,050 participating universities in UI GreenMetric World University Ranking around the globe, it was hailed as the 351st World's Most Sustainable University, and 4th in the country. Developed since 2010 by the University of Indonesia, UI GreenMetric is the first ranking in the World that has established a Voluntary Standard for improving university infrastructure and action towards sustainable universities worldwide. The university further made its sustainability efforts more robust by establishing the Center for Sustainable Development (CSD) to ensure that sustainability is an essential component of the university's core duties of instruction, research, innovation, and extension services, as well as its general administrative and general support services functions. As part of the abovementioned efforts, the university likewise designated Sustainability Development Officers (SDOs) in every constituent campus to ensure that the programs, projects, and activities (PPAs) on a campus level are aligned with the SDGs, and approved the University Policy Guidelines for the Attainment of Sustainable Development Goals by virtue of Board Resolution No. 136, s. 2022. Thus, as the National Engineering University, Batangas State University continues to uphold its strong commitment to facilitate and promote sustainability efforts in attaining the 2030 Global Goals.
Undoubtedly, BatStateU – The NEU fortifies its vision of being a "premier national university that develops leaders in the global knowledge economy."
1903
Established as a Manual Training School for young men
1905
Renamed Batangas Trade School
1952
Converted from being a Pablo Borbon Memorial Trade School to a National Trade School by virtue of RA 741.
1953
Became the Pablo Borbon Memorial Trade School by virtue of RA 746
1957
Renamed Pablo Borbon Regional School of Arts and Trades; Started offering technical courses
1968
Converted into a state college by virtue of RA 5270, called the Pablo Borbon Memorial Institute of Technology, the 23rd state college in the Philippines
1971
Offered industrial education and engineering programs
1974
Started offering graduate degree programs
1984
Expanded operations in its first extension campus in Alangilan, Batangas City
1987
Started offering basic education through a special science class in the laboratory school
2001
Converted into a state university by virtue of RA 9045, called the Batangas State University
2006
Established stronger international partnerships and linkages
2015
Modernized infrastructure to create a 21st-century learning environment
2016
Established research and development centers; Shifted academic calendar with the first semester opening in August
2017
Recognized as Center of Excellence in Electronics Engineering and Center of Development in Mechanical Engineering, Electrical Engineering, Teacher Education and Development Communication; Classified as a Level IV state university; Received international accreditation of engineering and IT programs
2018
Received ISO 9001:2015 certification; Recognized as a Regional Center for Disaster Risk Management Education and Research
2019
Launched the new vision towards becoming a premier national university
2020
Received presidential proclamation of the BatStateU Knowledge, Innovation and Science technology (KIST) Park as a Special Economic Zone; Awarded three stars by the QS stars rating; Approved the offering of 27 emerging programs in engineering and allied fields.
2021
BatStateU bolstered its international partnerships and linkages highlighting formalized cooperation with the Embassy of India through the BatStateU KIST Park.
2022
By virtue of Republic Act No. 11694, Batangas State University became the first and only National Engineering University in the Philippines.
University Vision
A premier national university that develops leaders in the global knowledge economy.
University Mission
A university committed to producing leaders by providing a 21st century learning environment through innovations in education, multidisciplinary research, and community and industry partnerships in order to nurture the spirit of nationhood, propel the national economy, and engage the world for sustainable development.
Core Values
Patriotism
Service
Integrity
Resilience
Excellence
Faith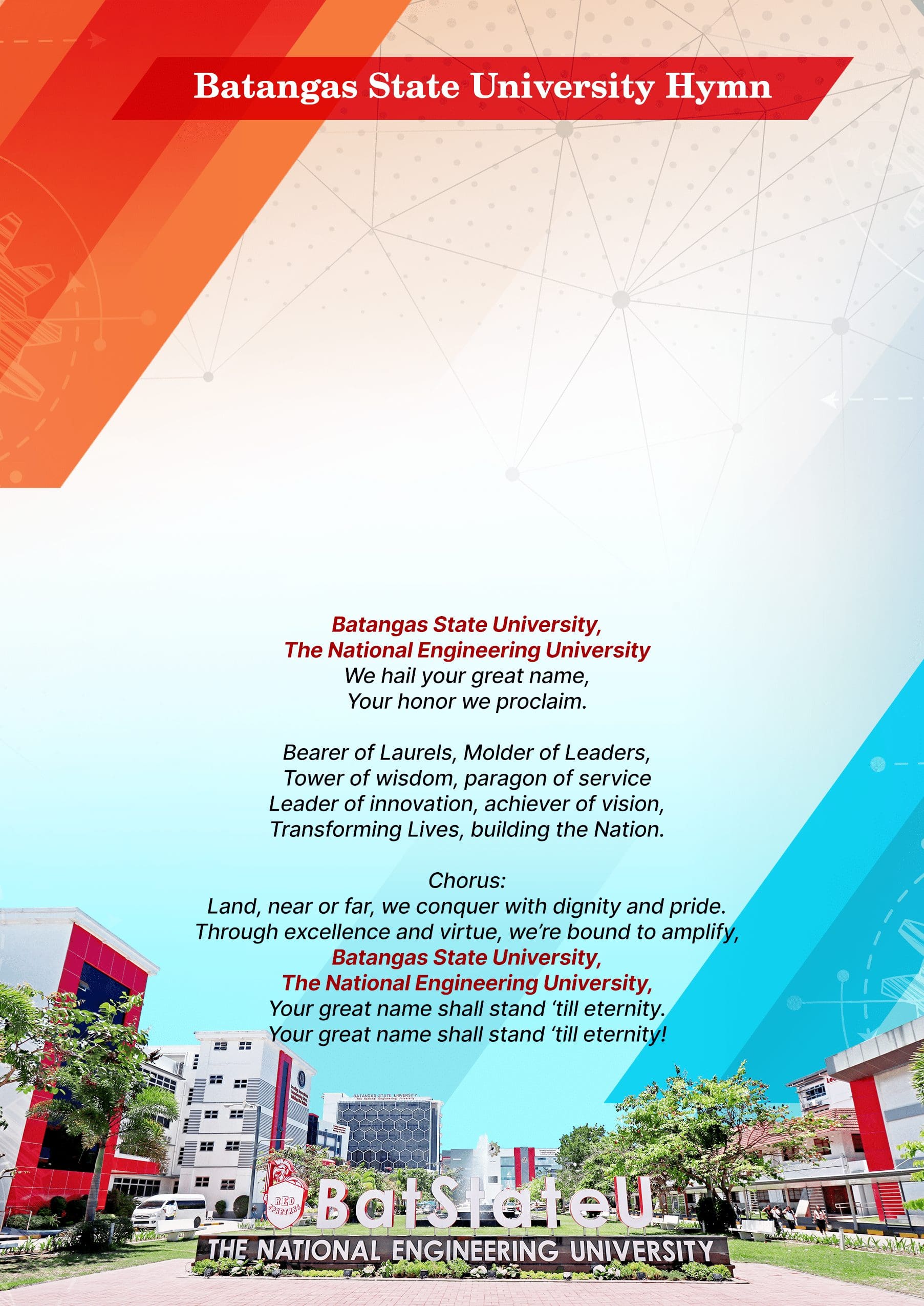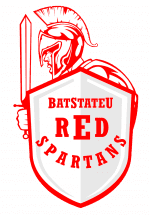 The Red Spartans is the official mascot of the university. It was launched on 23 September 2014 during the 111th Foundation Anniversary of the institution. Designed by John Jeffrey Alcantara, a Fine Arts major of the university, it was officially registered at the Intellectual Property Office of the Philippines on 15 April 2016 with Certificate of Registration No. 4/2014/00013631.
Leading Innovations, Transforming Lives, Building the Nation is the official service motto of the university. Following the declaration of Batangas State University as The National Engineering University in 2022, it embraced a new-fangled mandate to build the nation in response to the call for engineering advancement in the country. Parallel to this, the University motto also carries with it its long-standing tradition of service, excellence, and virtue, as specified in its official seal, and is anchored on the goal of maximizing transformative impact through innovations in instruction, research, and community service, and of realizing further contribution to national development.
Leading Innovations, Transforming Lives, Building the Nation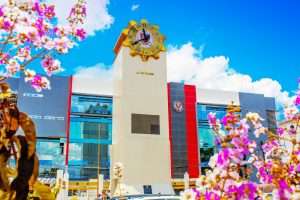 In an evening fellowship on 19 November 2016, the university marker named Tower of Wisdom was inaugurated in its Main Campus during the 113th founding anniversary of Batangas State University. The design was conceptualized by Dr. Tirso Ronquillo, and was applied at the Intellectual Property Office as an Industrial Design on 15 November 2016. The structure rests on a 16 meter long and 11.3 meter wide platform, to symbolize the 16th year of the current century and the 113th founding anniversary of the institution. It is 19.03 meters high, symbolic of the year the institution was founded. Through Resolution No. 729, s.2017, the Board of Regents declared the Tower of Wisdom as the official landmark of the university.