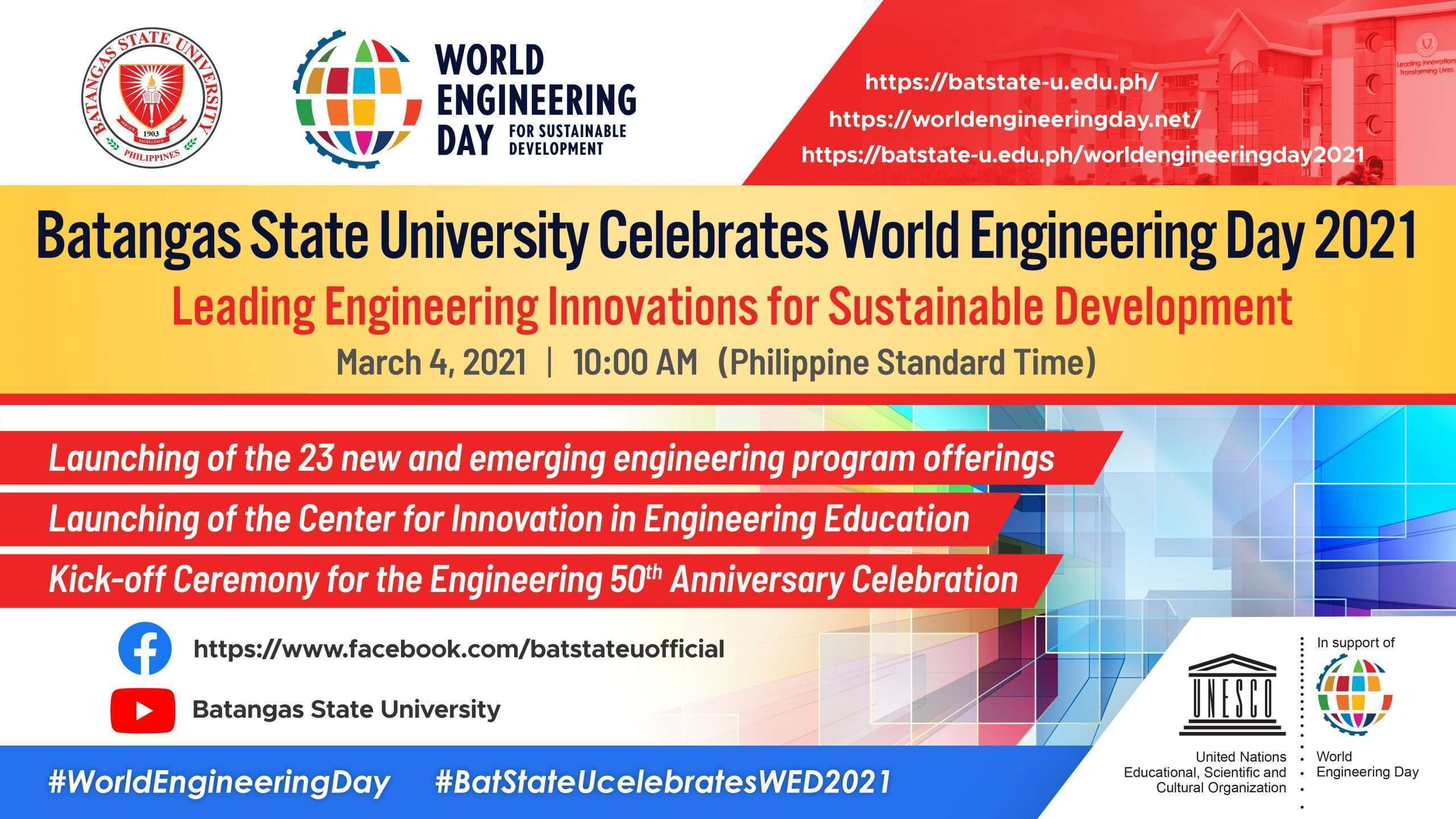 The World Engineering Day
World Engineering Day recognizes the important work that engineers need to do in addressing climate change and developing technologies for a carbon free economy. It is engineering innovations that will achieve this goal. Engineers will ensure cities are cleaner, more sustainable, smarter and livable. And importantly, engineers will ensure that everyone has clean accessible water, sanitation systems and affordable and reliable energy.
World Engineering Day for Sustainable Development will be celebrated on 4th March every year as a UNESCO international day of celebration of engineers and engineering. The 40th General Conference of UNESCO has adopted the resolution to proclaim 4th March of every year a World Engineering Day for Sustainable Development in November 2019.
Engineering innovations are crucial to achieving the Sustainable Development Goals. The second UNESCO Engineering Report – to be released on World Engineering Day on March 4, 2021 as the main event - provides insights in 9 selected areas of engineering that show how innovation, associated with emerging technologies, can address key challenges and help achieve the SDGs.
The theme of World Engineering Day on March 4, 2021, Engineering for A Healthy Planet- Celebrating the UNESCO Engineering Report, will focus on celebrating the launch of the 2nd UNESCO Engineering Report "Engineering for Sustainable Development: Delivering on the Sustainable Development Goals". Engineers are needed more than ever for clean water and sanitation, to address climate change and increasing natural disasters and for reliable affordable renewable energy. Engineers need to collaborate to develop the solutions needed for sustainable development (WFEO, 2021).
In line with this, the Batangas State University celebrates the World Engineering Day 2021 with its own theme "Leading Engineering Innovations for Sustainable Development" on March 4, 2021. The event will be streamed live on the university's official Facebook page @batstateuofficial. Furthermore, the succeeding events after March 4th will be hosted as part of the celebration of the 50th anniversary of engineering at Batangas State University.
The event features inspiring engineering leaders who will talk about engineering and its role on sustainable development goals advancement and an open day for the launching of the new engineering program offerings and the Center for Innovation in Engineering Education (CIEE).
Succeeding events will be organized as part of the 50th anniversary of the Batangas State University's College of Engineering as indicated in the CIEE website.
Engineering students, faculty members and alumni of Batangas State University, other higher education institutions offering engineering, STEM high school students, industry and government partners are expected to participate in this important day in engineering.
Objectives:
Join with UNESCO WFEO in the celebration of the World Engineering Day as an important international day for Batangas State University in achieving sustainable development.

Increase awareness of engineering, its impact on modern life and its crucial role in the advancement of the UN's Sustainable Development Goals (SDGs);

Encourage more young people to consider engineering as a career by launching the new and emerging engineering programs of Batangas State University.