The Batangas State University successfully staged its 5th International Research Conference on Innovations in Engineering, Science and Technology (IRCIEST V) with the theme "Innovations in Engineering, Science and Technology for the New Normal and Beyond" held virtually for the first time via FLOOR platform, Dec. 6-7.
More than 470 participants from local higher education institutions (HEIs), private institutions, and business organizations joined the knowledge-sharing event which served as a dynamic platform for S&T and engineering students, professionals, technopreneurs, and researchers to share advances in various fields and stages of technology applications and commercialization.
According to University President Dr. Tirso A. Ronquillo, IRCIEST's main goal is to enjoin researchers from different institutions across the globe to do more collaborative work to provide innovative solutions to the immediate problems in the 'new normal'.
"The Batangas State University remains committed to strengthening and enhancing the capabilities of our researchers as we continue to build upon our commitment to forging a country that is able to reap the fruits of innovation in engineering, science and technology in the knowledge-based economy," Pres. Ronquillo shared during his opening remarks.
Department of Science and Technology (DOST) Secretary Fortunato T. Dela Peña delivered the keynote address. He presented various projects DOST has crafted to inspire more life-changing innovations in the new normal through the Science and Technology for a Resilient Community against the Pandemic or STRAP program.
"As part of the scientific community, we will continue to find solutions that our rich human resources can put up through our support for science and technology projects. We need to collaborate and partner more with our universities and research institutions to take part in our endeavors in research and development," Sec. Dela Peña concluded in his keynote address.
The conference also featured a keynote lecture from Ms. Salla Eckhardt, Director of Transformation Services of Microsoft on "Digital Transformation in the New Normal and Beyond" as well as plenary sessions, panel discussions, and masterclasses with innovators from the Philippines, Australia, Malaysia, Singapore, and United States as resource speakers.
Plenary sessions:
Mr. Christopher Cooper, Chief Science Officer and CEO, Airlock 389

Mr. George Royeca, Chief Transport Advocate, Angkas
Panel discussion on Women Growth and Innovation:
Ms. Katrina Chan, Director, QBO Innovation Hub

Ms. Paula Mills, Founder & CEO, Academy of Entrepreneurs

Ms. Priya Thachadi, Co-Founder and CEO, Villgro Philippines

Mr. Chris Peralta, Founder and CEO, Silicon Valley HQ
Panel discussion on Building Regional Startup Enablers for Ecosystem Development RESEED Consortium Representatives from different Regions:
Dr. Thelma Palaoag, University of the Cordilleras, TARAKI Cordillera

Dr. Jose Guzman, Cagayan State University, SINAG Cagayan Valley

Engr. Dennis Dela Cruz, Bulacan State University, SULONG Central Luzon

Engr. Albertson Amante, Batangas State University, ICONS South Luzon

Engr. Shearyl Arenas, Technological Institute of the Philippines, QC SCALE NCR

Dr. Carmelo Ambut, Iloilo Science and Technology University, UMWAD Western Visayas

Ms. Janice Antoniette Förster, Silliman University, DASIG Central Visayas

Engr. Bronson Mabulay, University of Science and Technology of Southern Philippines, MindSET Northern Mindanao

Mr. Miguel Carlo Guillermo, University of the Philippines Mindanao, IDEAS Davao

Engr. Edward Paul Apigo, Senior Science Research Specialist, DOST PCIEERD – RITTD
Parallel Masterclasses:
Mr. Neelesh Bhatia, CEO, Akadasia – "Adapting a Universal Design for your Online Classroom"

Mr. Kelvin Ng Han Yao, Analytics Specialist, Quandatics – "From Data to Prediction Without Coding"

Dr. Seow Kok Huie, Senior Application Engineer, TechSource Systems – "Machine Learning Techniques and Enhanced Signal Processing for Sensor Data Analytics

Dr. Vincent Chai, Sr. Program Manager, CAD-IT Consultants (Asia) Pte Ltd. – " The Role of Simulation in Industry 4.0"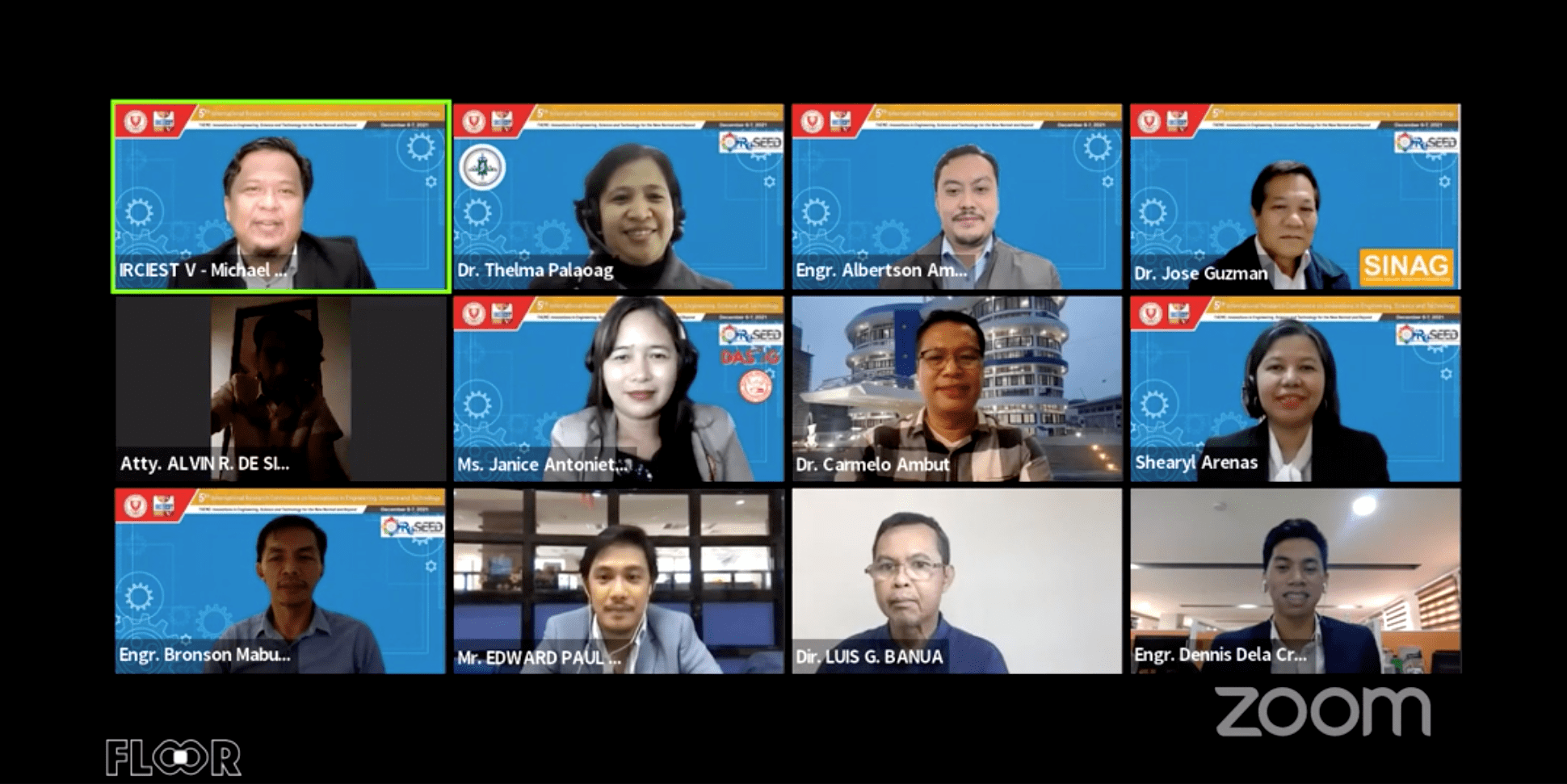 A total of 36 papers were presented during the parallel sessions tackling food and agriculture; engineering education, S&T, electronics, data science and analytics; instrumentation and control; automation and control, information and communication technology, biochemistry and molecular biology, and energy and environment.
The conference was formally closed with the awarding of Best Presenters and Best Research Papers as well as the announcement of the top 3 winners in the Innovation Challenge Competition.
The AIRIN start-up project of the Nueva Vizcaya State University was announced as the champion in the competition. Meanwhile, the Cocofuel project of Mindanao State University-Iligan Institute of Technology and the Polypelletech project of the University Rizal System were awarded as the 2nd placer and 3rd placer respectively. P100,000 worth of total cash prizes will be awarded to the winners.
Ms. Emelita P. Bagsit, Regional Director of the Department of Science and Technology and major sponsor of the Innovation Challenge Competition graced the occasion and assisted in the awarding of winners.
Engr. Albertson Amante, IRCIEST V Conference Chair officially closed the conference by thanking all participants and committee members for the successful virtual event and invited everyone for the 6th IRCIEST in 2023.
IRCIEST V is a biennial conference organized and spearheaded by Batangas State University since 2013.
Batangas State University is a Level IV state university in the CALABARZON region, and the only SUC in the country accredited by the US Accreditation Board for Engineering and Technology (ABET) for its Engineering and Information Technology programs. It is rated 3 stars in the Quacquarelli Symonds (QS) list of top universities and has the highest number of ASEAN Engineers faculty among Philippine higher education institutions.