BATANGAS CITY – Department of Agriculture (DA) Secretary Dr. William Dar visited Batangas State University for the inauguration of the DWPB FM 107.3 D'AniKita radio station at the School of Development Communication building, Pablo Borbon Main I.
The university received a grant from DA for the expansion of its existing radio station. It is now powered with a 100-watt FM transmitter and a full set of state-of-the-art radio broadcast equipment. This is part of a tripartite agreement between BatStateU, DA, and Forefront Broadcasting Company (FBC), which provides the training for the university's radio anchors.
In his speech, Sec. Dar highlighted the significance of the continued use of conventional technology to reach the farming and fishing community, who largely rely on radio programs for information. This new project, he said, will help not only the stakeholders of the university, but also those people who are considered the lifeline of Philippine agriculture.
DA's Assistant Secretary Noel Reyes and CALABARZON Regional Director Engr. Arnel De Mesa were also present in the inauguration. Seasoned broadcaster Mr. Francisco Flores represented FBC in the event.
BatStateU President Dr. Tirso Ronquillo expressed his gratitude to DA for trusting the university in running the community-oriented radio program. He underscored the importance of the university's radio station as a platform to augment the means of communication, information and education among people in remote areas that are hardly reached by modern technology.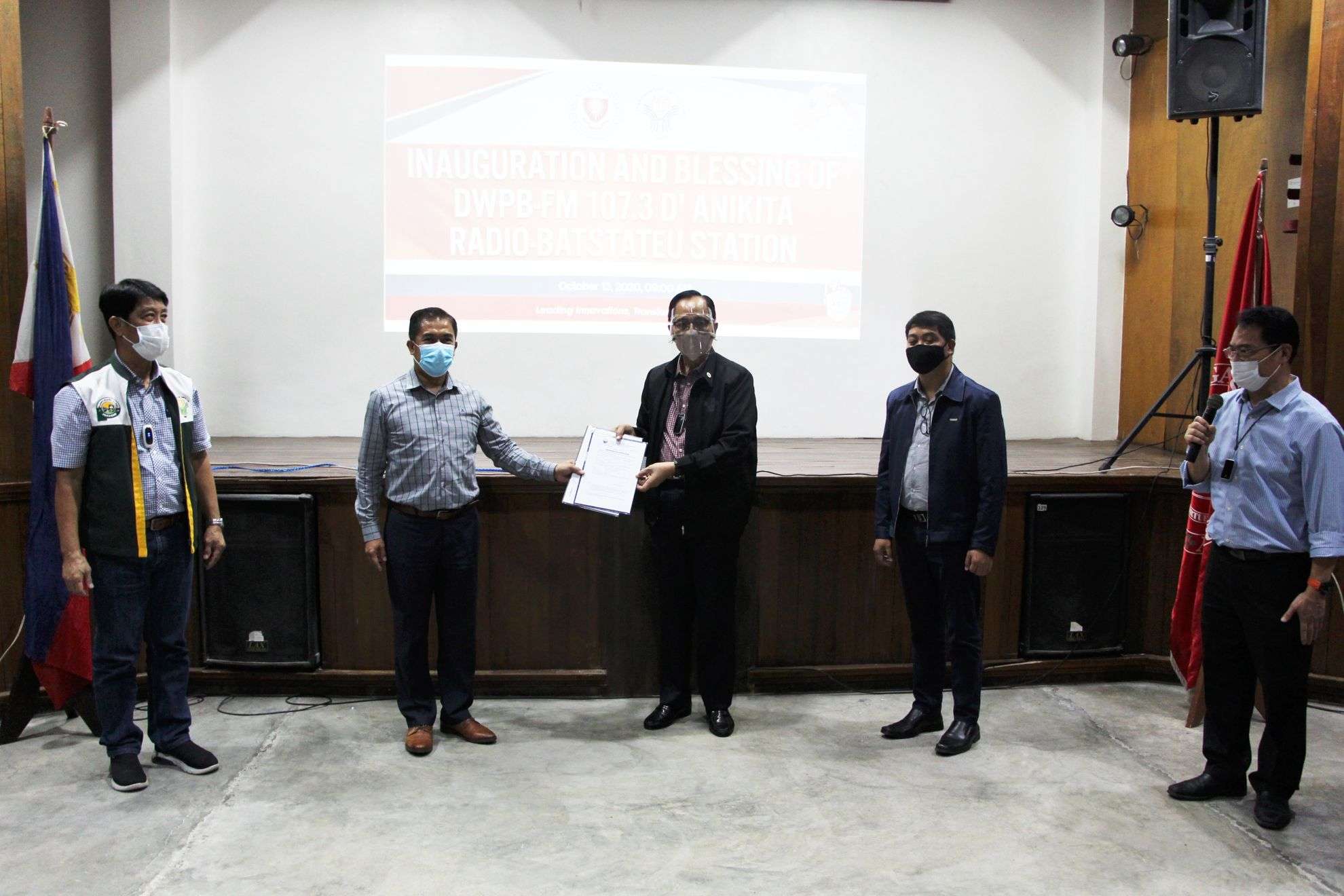 From L-R: ASec. Noel Reyes, President Tirso Ronquillo, Secretary William Dar, Regional Director Arnel de Mesa and Mr. Francisco Flores during the inauguration ceremonies of the DWPB 107.3 D' AniKita radio station.
After the ceremonies, Sec. Dar, Engr. De Mesa, and Dr. Ronquillo were interviewed at the radio station by one of the station's program hosts and a core faculty of the Development Communication program, Dr. Vaberlie Mandane-Garcia. They discussed the objectives of establishing the radio program on a university setting, the role of agriculture in times of crisis, and the call for support to DA's project, "Plant, Plant, Plant."
The radio station was blessed by Rev. Fr. Vic Cisneros. Only select representatives from DA, BatStateU and FBC attended the inauguration and blessing, following the university's Health and Safety Protocols.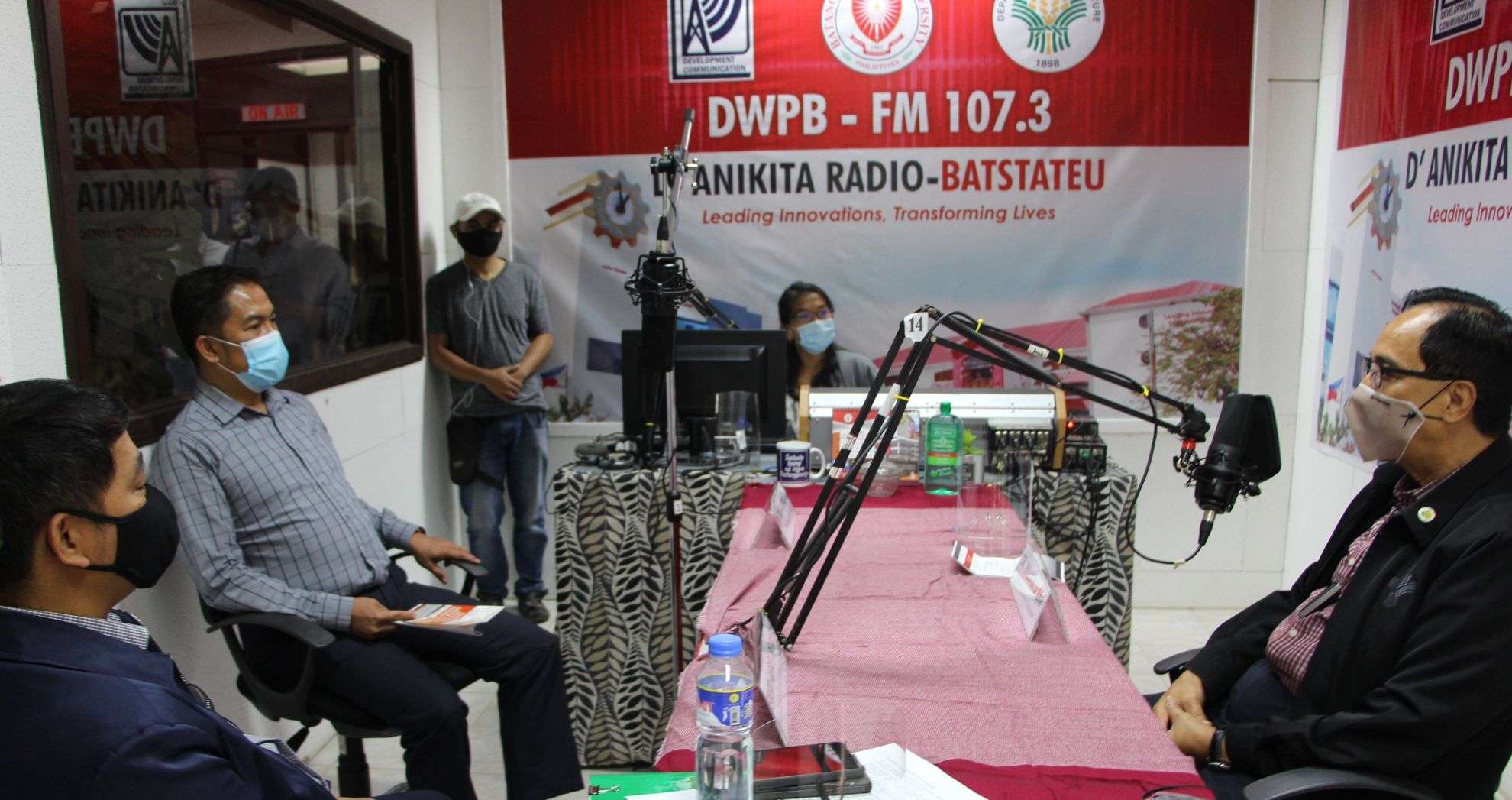 Sec. Dar, Dr. Ronquillo, and Director de Mesa being interviewed by anchor Dr. Vaberlie Mandane-Garcia for the station's first program. On stand-by is the station's technician, Mr. Nico Manalo.
Dr. Benedict Medina, the Department Chair of Undergraduate and Graduate Programs of the College of Arts and Sciences, serves as the OIC Radio Station Manager. Some of the programs to be aired initially are the 'Buhay sa Bahay' of Dr. Vanessa Castillo, 'TALAKalikasan' of Dr. Vaberlie Mandane-Garcia, programs of the DA central and regional offices, and music programs for students.
DWPB 107.3 FM D'AniKita radio airs everyday from 4:00 AM to 10:00 PM.