Batangas State University, The National Engineering University (BatStateU-The NEU) further strengthened its commitment to internationalization after signing a Memorandum of Understanding (MoU) with Bansomdejchaopraya Rajabhat University (BSRU) on January 9.
BSRU is a public higher educational institution which is among the top 60 universities in Thailand. It offers a wide range of undergraduate degree programs under its six faculties: Science and Technology, Education, Management Science, Humanities and Social Sciences, Music, Engineering and Industrial Technology. Additionally, this institution provides 14 Master's and seven Ph.D. degree programs, as well as a Graduate Diploma program for Teacher Training.
BatStateU-The NEU President Dr. Tirso A. Ronquillo and BSRU President Dr. Linda Gainma led the ceremonial MoU signing, which symbolizes the partnership between the two universities in academic collaboration. These include the conduct of academic, research, and community services; the development of joint research, publication, seminar, and conference; the exchange of faculty members, staff members, and students for both short and long terms; and the conduct of cultural activities. This initiative is aligned with the attainment of Sustainable Development Goals particularly SDG 4 (Quality Education), SDG 8 (Decent Work and Economic Growth), SDG 10 (Reduced Inequalities), and SDG 17 (Partnerships for the Goals).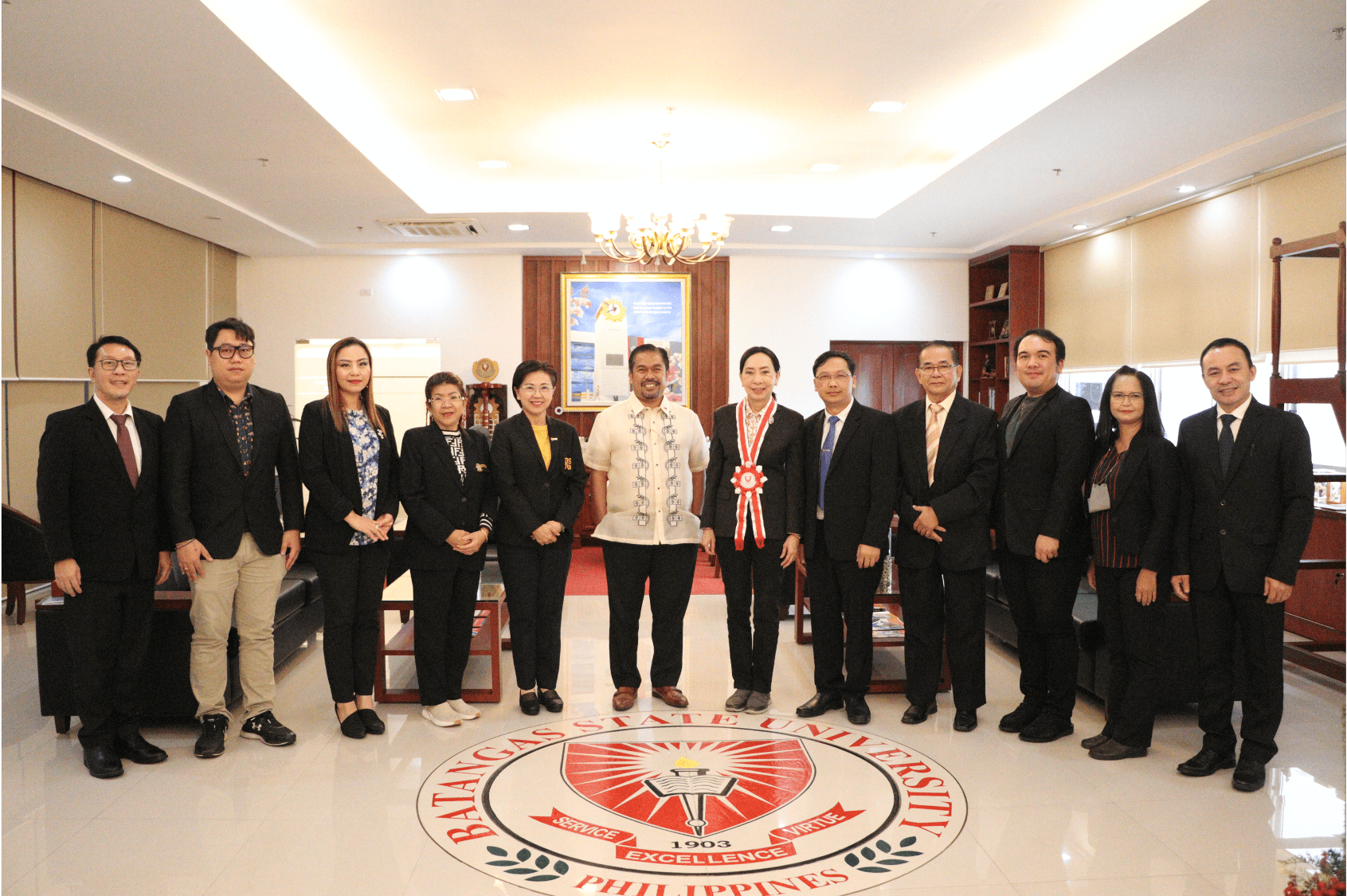 "I am delighted about this partnership as it will bring visibility, credibility and prestige to an initiative. I know that it will demonstrate a strong commitment towards ensuring students and staff access to mentorship, experiential learning, equity, inclusivity and even exposure to new challenges and perspectives, and this is something I am truly excited about," Dr. Ronquillo articulated. 
Both Higher Educational Institutions (HEIs) set out to establish an institute of learning for teacher and human development towards producing communicative, skillful, and multicultural-trained graduates. In parallel, BatStateU-The NEU and BSRU agreed to conduct collaborative research projects among faculty, engage in Student Visits and Exchange and Teaching Internship Exchange,  and hold webinars/seminars and training to empower and inspire the next generation of leaders, to improve the lives of professionals and to serve as stewards of the best practices in teacher education program. BatStateU-The NEU is also open to exploring other prospective opportunities with BSRU in other relevant projects and initiatives that will enhance the education of their students, increase research accomplishments, broaden the knowledge base of their faculty, and promote mutual understanding and enlightenment of the people of their respective countries. 
BSRU delegates, including Vice President Dr. Sutipporn Chotratanasak, Vice President Assoc. Prof. Sayan Puttala, Asst. President Dr. Suriya Phankosol, Chairman of Academic Services Project Assoc. Prof. Somchai Promsuwan, Chairman of Doctoral Programme in Curriculum and Instruction Dr. Areewan Iamsa-Ard, Director of Office of International Affairs and ASEAN Network Dr. Kulsirin Aphiratvoradej, Dean of Graduate School of Dr. Kanakorn Sawangcharoen, Deputy Deans of Graduate School Dr. Nainapas Injoungjirakit and Asst. Prof. Akaranun Asavarutpokin, and Deputy Director of Office of International Affairs and ASEAN Network Asst. Prof. Chalermsup Karamjakwut also graced the ceremonial MoU signing. Also present is Dr. Teodorica G. Ani, Director of External Affairs from BatStateU Central, along with other BatStateU officials from the Malvar campus, including Chancellor Dr. Philip Y. Del Rosario, Vice Chancellor for Development and External Affairs Dr. Sharon G. Angulo, Vice Chancellor for Academic Affairs Dr. Amado C. Gequinto, Dean of College of Teacher Education Dr. Nora V. Marasigan, Head of External Affairs Dr. Romel M. Aceron and Focal Person in Internationalization in Action of CTE Dr. Genalyn P. Lualhati.