As evidence of its strong commitment to contribute to a more sustainable world, the Batangas State University (BatStateU), The National Engineering University (NEU) was hailed as the 351st World's Most Sustainable University in the 2022 UI GreenMetric World University Rankings, and 4th in the country.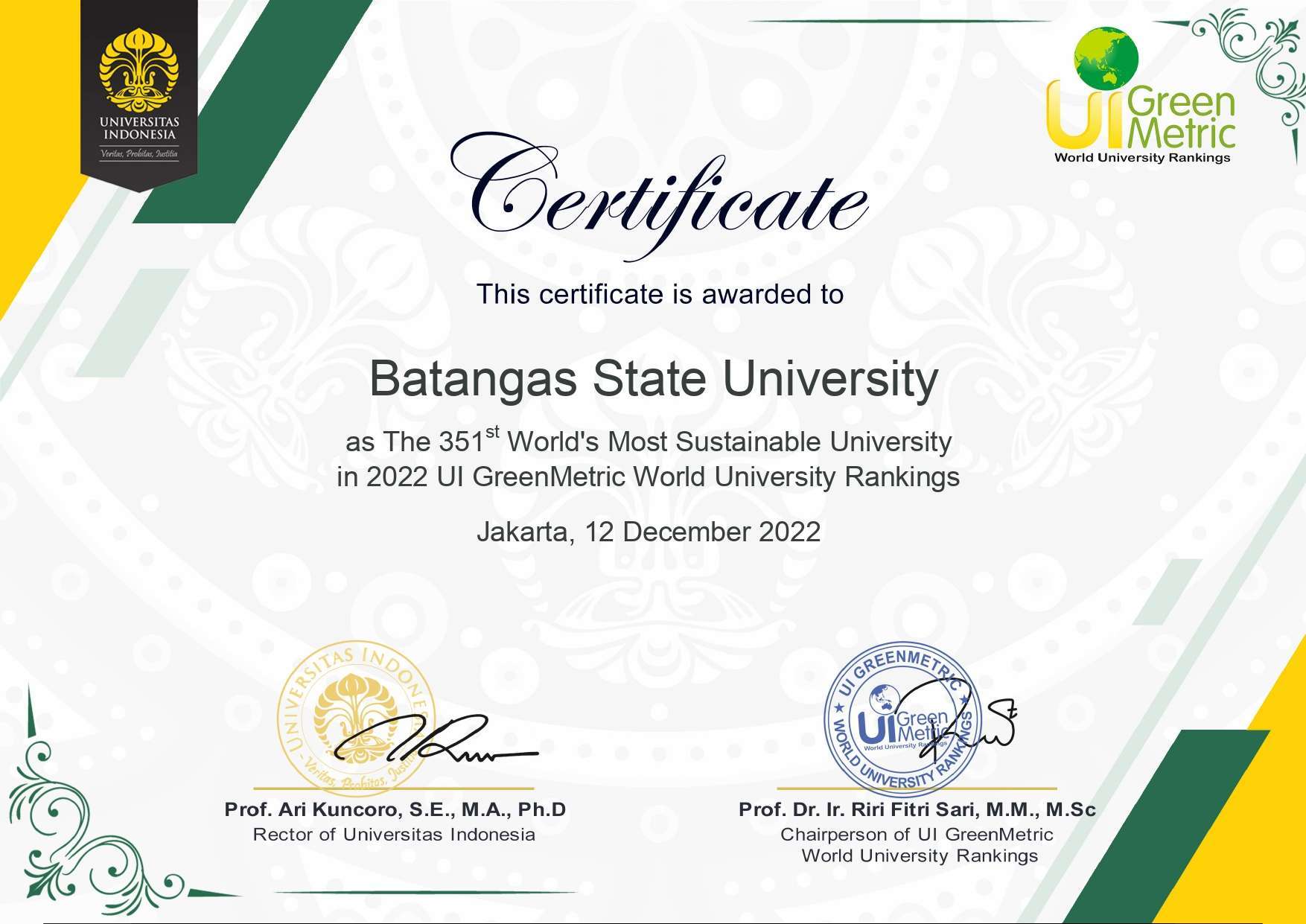 As a first-time participant in the said ranking, BatStateU-The NEU successfully garnered 6,760 points from 39 indicators in six different criteria namely: energy and climate, waste, water, transportation, and education and research through the university's sustainability commitment and initiatives, where the university ranked 168th in the world in the area of education and research.
Dr. Tirso A. Ronquillo, University President, thanked all members of the university for their collective actions towards sustainability, especially the task force which initiated the collection and submission of the required data to the UI GreenMetric portal.
Recently, the university further made its sustainability efforts more robust by establishing the Center for Sustainable Development (CSD) to ensure that sustainability is an essential component of the university's core duties of instruction, research, innovation, and extension services, as well as its general administrative and general support services functions.
As part of the abovementioned efforts, the university likewise designated Sustainability Development Officers (SDOs) per constituent campuses to ensure that the programs, projects, and activities (PPAs) on a campus level are aligned with the SDGs, and approved the University Policy Guidelines for the Attainment of Sustainable Development Goals by virtue of Board Resolution No. 136, s. 2022.
With the theme "Collective Actions for Transforming Sustainable Universities in the Post-Pandemic Time," the UI GreenMetric was participated by 1050 higher education institutions (HEIs) across the globe, and focuses on higher education's efforts to continue their sustainability programs and policies based on sustainable development goals (SDGs) while preparing for teaching, learning, and research in post-pandemic COVID-19.
Developed since 2010 by the University of Indonesia, UI GreenMetric is the first ranking in the World that has established a Voluntary Standard for improving university infrastructure and action towards sustainable universities worldwide.
Complete results of the rankings are available at the UI GreenMetric website.