Batangas State University has partnered with the British Council as a recipient–grantee of the Access and Competitiveness through Internationalisation of Higher Education (ACT–IHE) project, in partnership with the Commission on Higher Education. 
This project was officially launched on May 19, 2021 as part of the celebration of the first National Higher Education Day. Only 26 out of the thousands of private and public higher education institutions (HEls) in the country were selected to be part of this partnership with the British Council.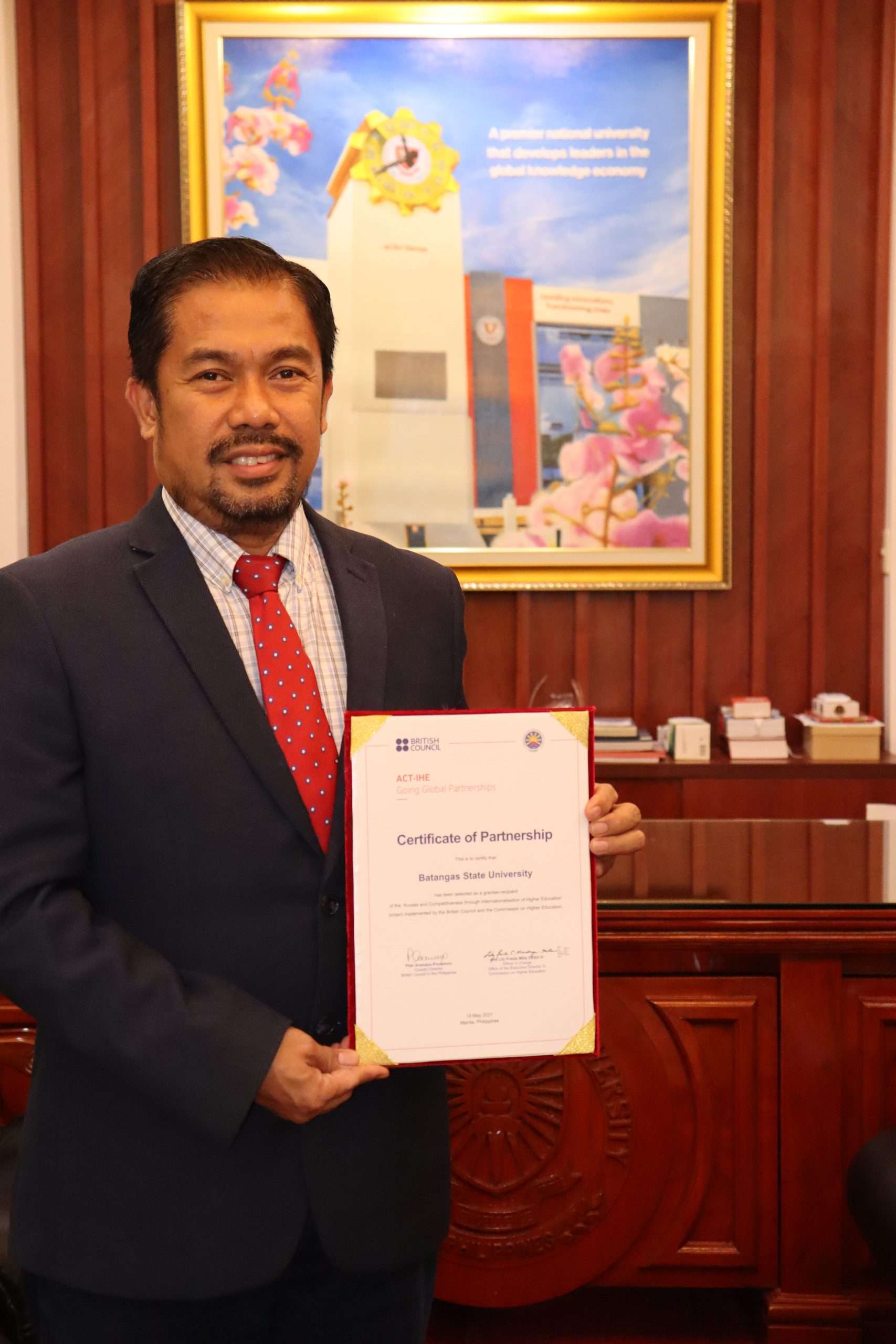 BatState U President Dr. Tirso A. Ronquillo holds the Certificate of Partnership with the British Council for the Access and Competitiveness through Internationalisation of Higher Education (ACT–IHE) project. 
ACT–IHE aims to build the competitiveness of Philippine HEls by strengthening their capacity on internationalization. BatStateU is a grantee in the two component projects of ACT–IHE, one is on Transnational Education (TNE) and the other on English–medium Higher Education (EME). 
The TNE component focuses on the co–development of a new graduate program in engineering by BatStateU and a UK university. Once developed, this new program will be offered in both universities under transnational education. On the other hand, the EME component focuses on enhancing the quality of teaching various courses using English as a medium of instructional delivery as a means of improving capacity on internationalization. 
During the project launch, British Ambassador to the Philippines His Excellency Daniel Pruce and CHED Chair Dr. J. Prospero De Vera III delivered their message and expressed their excitement on the strengthened partnerships between Philippine and UK universities. Ms. Pilar Aramayo Prudencio, Country Director of the British Council, and Atty. Lily Freida Milla of the CHED International Affairs Staff and OIC – Executive Director provided the overview of the project and its significance to higher education. 
The project is set to commence in June 2021, and would last for three years.